Your wedding day is a celebration of love and unity, and every detail should reflect your unique personality and style.
One often overlooked aspect of wedding planning is the snack table, which can be a delightful and visually appealing addition to your reception.
In this blog post, we'll explore 10 innovative ways to style your wedding snack table, turning it into a focal point that complements your overall decor and theme.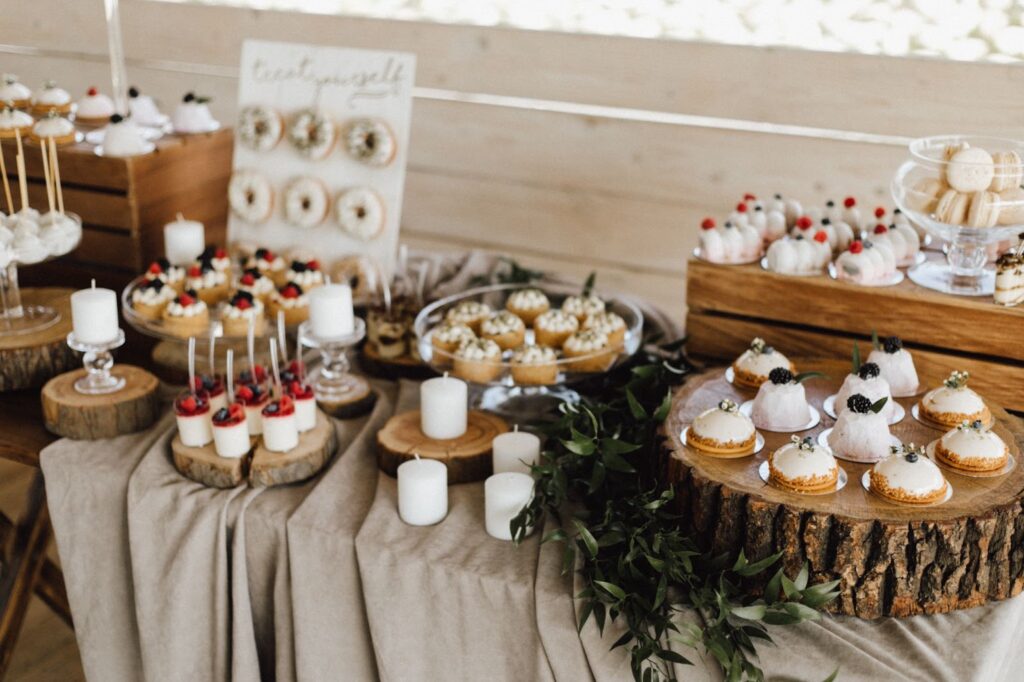 1. Incorporating Greenery: 
Elevate your wedding snack table with a lush and vibrant touch by incorporating fresh greenery.
Arrange a variety of tasty snacks on a bed of eucalyptus leaves or ivy for a rustic and organic look.
The contrast of colorful treats against the leafy backdrop will create a visually pleasing contrast that's sure to captivate your guests.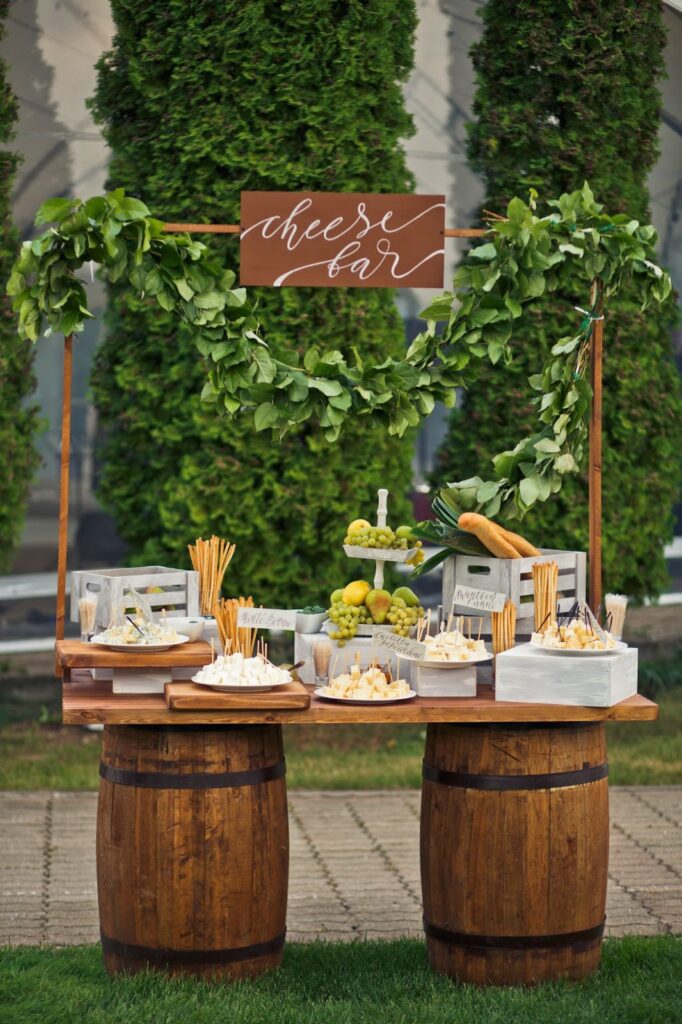 2. Play with High and Low Decor Elements: 
Add depth and dimension to your snack table by incorporating a mix of high and low decor elements.
Utilize stacked wooden crates to create varying levels for your snacks, allowing guests to explore the table from different angles.
This approach not only adds visual interest but also encourages guests to interact with the table, making it a memorable experience.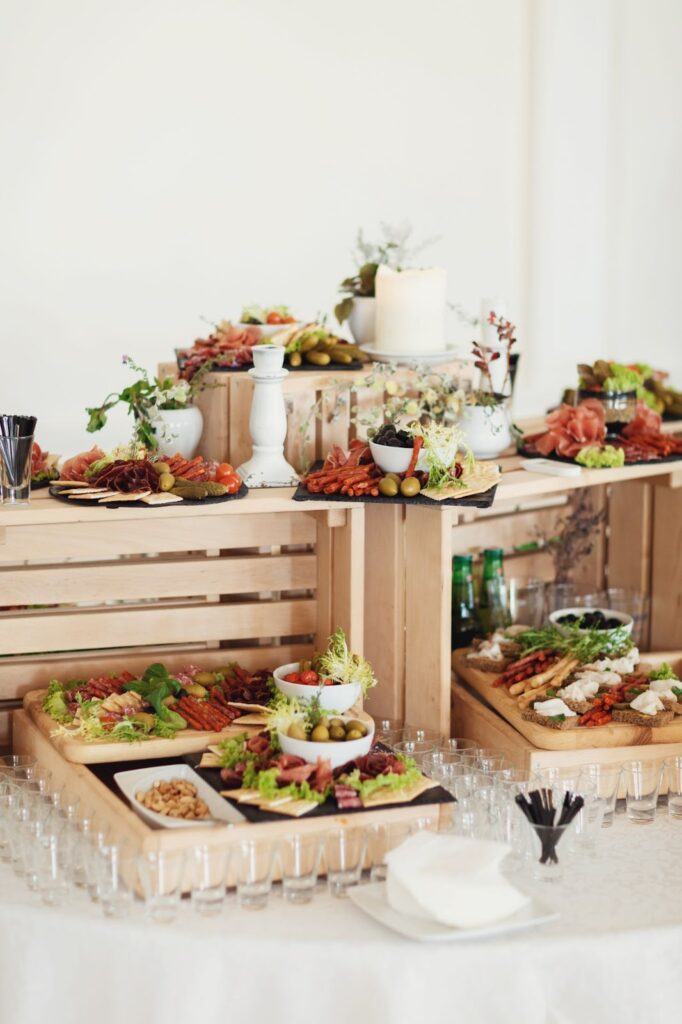 3. Stylish Grazing Table Runner:
Transform your snack table into a work of art by utilizing a grazing table runner.
Choose a charming fabric that complements your wedding color palette and arrange an array of snacks in an artful, linear display.
This technique not only organizes your treats but also serves as a stunning focal point that captures the attention of your guests.
4. Decorate with Candles:
Infuse romance and sophistication into your wedding snack table by incorporating elegant candles.
Place taper candles in glass votives or opt for delicate tea lights scattered among the snacks.
The warm and inviting glow of the candles will create an intimate atmosphere, perfect for sharing bites with loved ones.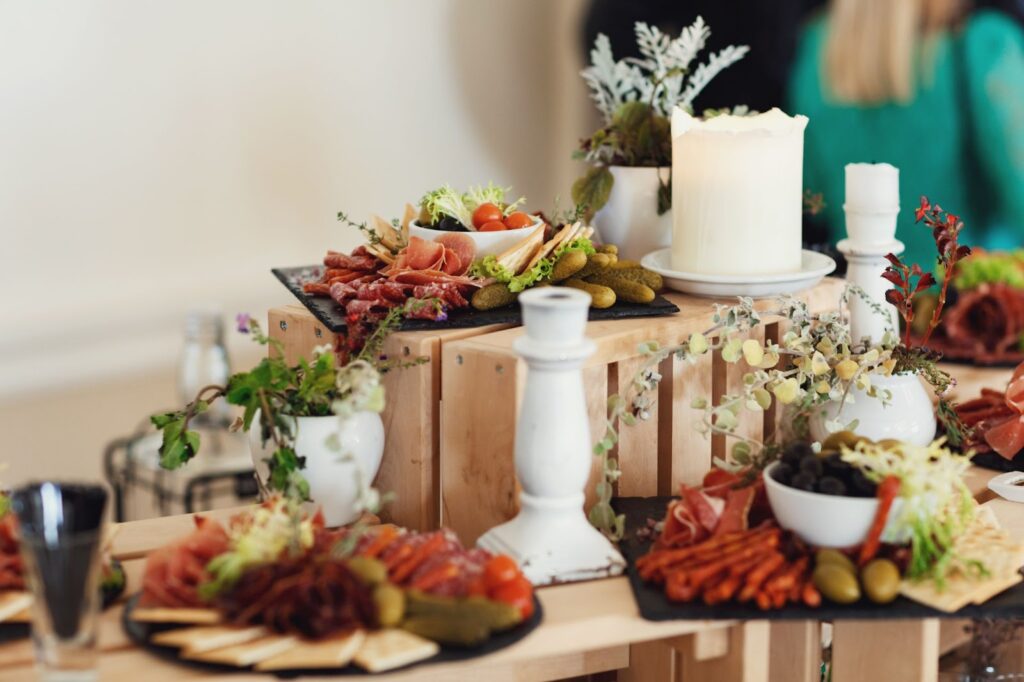 Need help figuring out your wedding budget?
We know that all weddings are unique and so are wedding budgets. Let us share a customized cost estimate based on YOUR preferences in catering, decor style, season and more.
5. Utilize Creative Signage:
Guide your guests through the snack table offerings with creative signage that matches your wedding theme.
Chalkboard signs, hand-lettered banners, or acrylic placards can add a personalized touch while also helping guests identify their favorite treats.
Include playful descriptions or heartfelt messages to engage your guests further.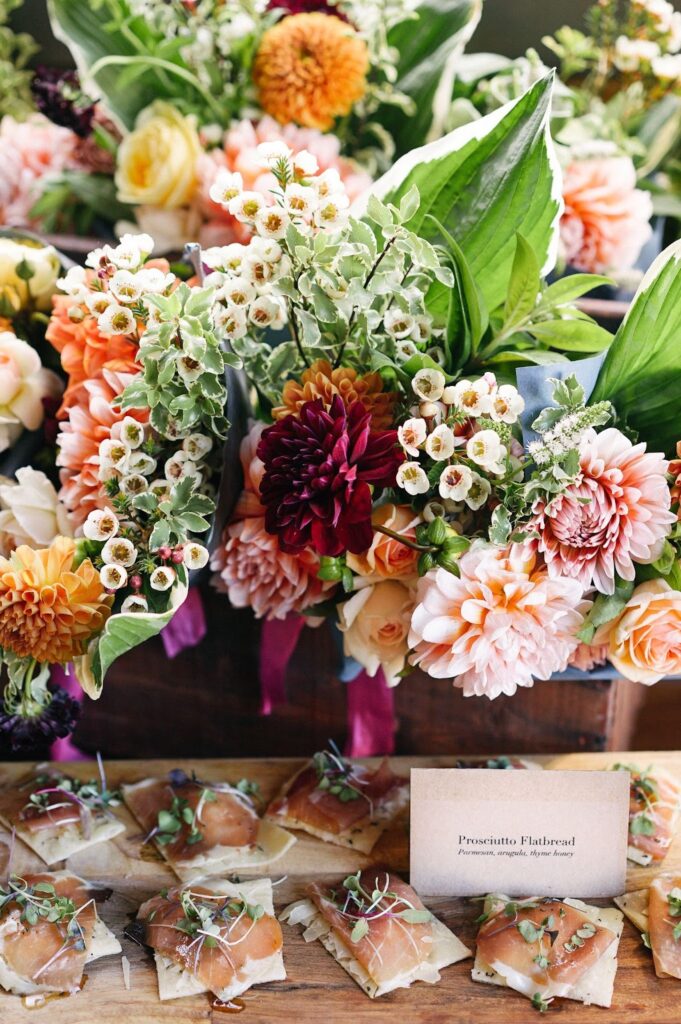 6. Frame a Stunning View:
If your wedding venue offers a beautiful backdrop, take advantage of it by strategically positioning your snack table to frame the breathtaking view.
Whether it's a rolling landscape, a serene lake, or a majestic mountain range, allowing nature to become part of your snack table's decor will provide an Instagrammable experience for your guests.
7. Keep it Classic Charcuterie:
Embrace a timeless and elegant aesthetic by focusing on classic charcuterie offerings.
Arrange an assortment of cured meats, cheeses, olives, and artisanal breads on wooden platters and marble slabs.
This timeless approach to the snack table will satisfy both visual and culinary cravings, appealing to a wide range of tastes.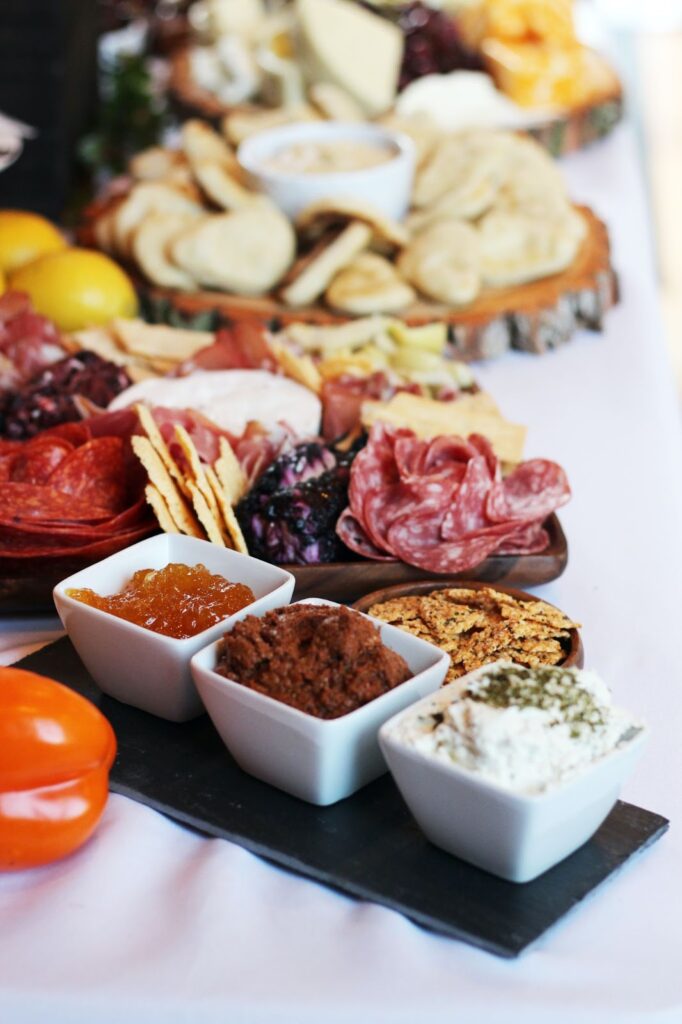 8. Sweet Indulgence Display:
Balance out the savory offerings with a sweet indulgence display.
Set up a dessert grazing table featuring an array of mini cupcakes, cookies, chocolates, and other delectable treats.
Incorporate decorative cake stands, vintage trays, and bud vases to showcase the sweets in an enticing manner.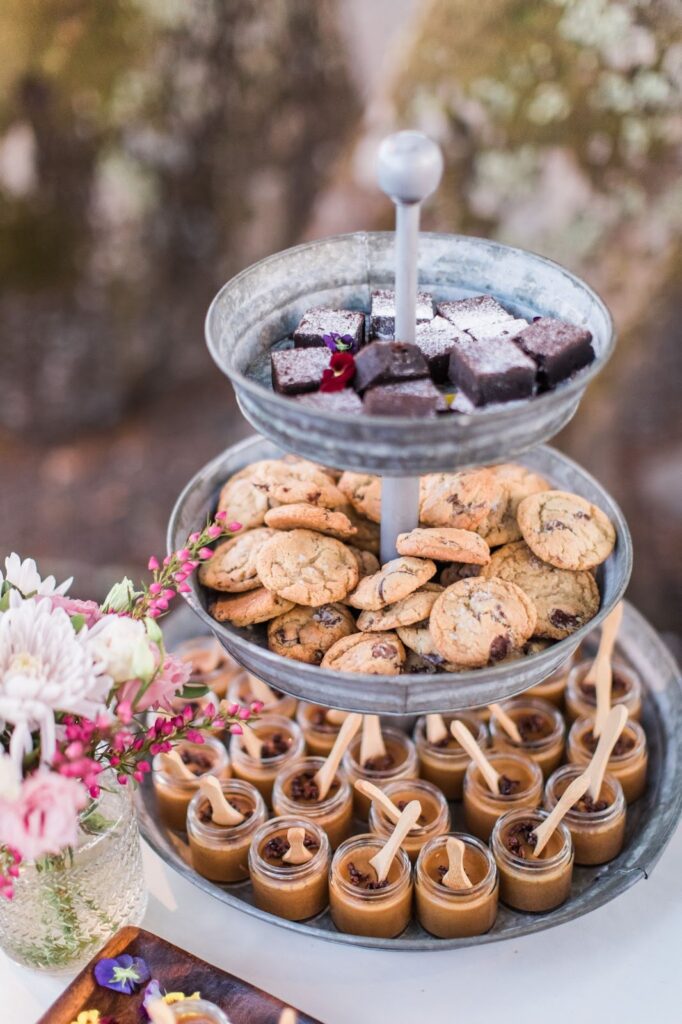 9. Cultural Fusion Feast:
Celebrate your diverse heritage and interests by curating a snack table that reflects various cuisines.
Incorporate international flavors, such as sushi rolls, mini tacos, or samosas, to showcase your shared journey. This fusion feast will not only please the palate but also symbolize the blending of your unique backgrounds.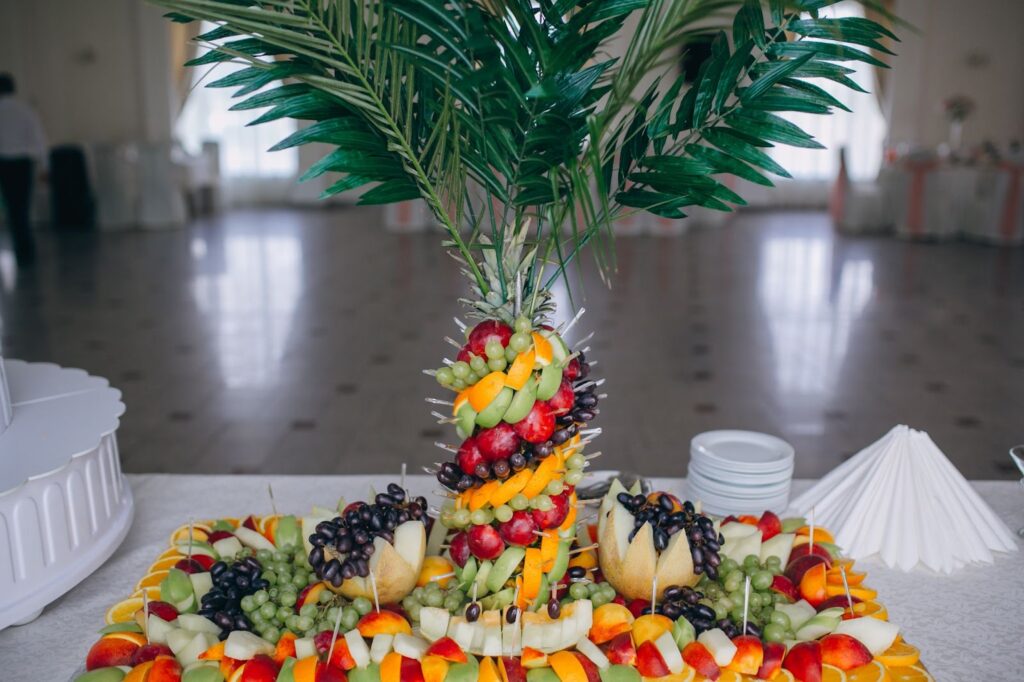 10. Bohemian Garden Spread:
Create an enchanting and bohemian-inspired snack table by adding dreamcatchers, whimsical floral arrangements, and vibrant textiles.
Combine fresh fruits, artisanal cheeses, and nuts for a laid-back yet sophisticated spread that captures the essence of an elegant garden party.
Final Thoughts
By implementing these 10 creative ideas, you can transform your snack table into a work of art that will impress your guests.
At Milestone, we know that details matter, and we love to see your creative visions come to life.
So, go ahead and let your creativity run wild as you design the perfect snack table that flawlessly complements your wedding celebration!