Warning: major dessert puns ahead. 
Who doesn't love a good wedding, and who doesn't love a good dessert?
You got through the ceremony and the vows, and there wasn't a dry eye in the house.
You took your wedding photos; they're stunning.
Your first dance went off without a hitch and everyone is praising your wedding DJ.
Not to mention, all your guests think the catering is delicious.
Now, don't you think that topping off your reception with the perfect desserts would be — wait for it — the icing on the cake?
Traditionally, the newlyweds will have a large wedding cake that they serve to guests after cutting the first slice together.
If you're looking to incorporate the cake-cutting into your wedding reception, more power to you!
However, it would probably be best to have some other dessert options too.
Specifically, a wedding dessert table.
Adorable, accessible, and customizable, a wedding dessert table adds a lot of flavor to your wedding dessert choices.
But if you don't know where to begin, here are 15 wedding dessert table ideas to shock your guests' sweet tooth.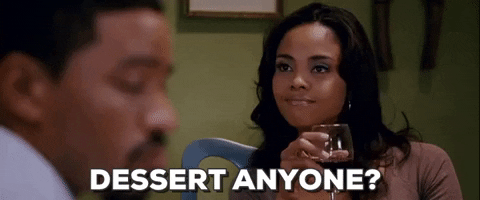 What Is A Wedding Dessert Table?
A wedding dessert table is a table spread dedicated to, you guessed it, just desserts.
They look beautiful and add a fun, relaxed atmosphere to a wedding reception.
Since guests have to serve themselves, wedding dessert tables get them moving and mingling.
Plus, everyone likes feeling like they have a say in their choices, and wedding dessert tables are pretty autonomous.
Wedding Dessert Table Ideas
Is your mouth watering already?
Another great thing about a wedding dessert table is that it's a chance for you to get creative with your wedding dessert options.
(You can also mix and match if you want to and have multiple wedding dessert tables for guests to choose from!)
So, here are a few wedding dessert table ideas that'll surely satisfy all of your guests.
1. Wedding Cake Table
Let's start off with one of the more traditional wedding dessert table ideas to get the ball rolling.
A good cake is always good to have.
Have several different types of cakes (chocolate, red velvet, carrot cake, etc.), and have your guests cut the cakes and help themselves to a slice.
Or two, or three.
2. Cupcake Table
Now, for a slightly more updated version of the cake wedding dessert table.
A cupcake brings all the fun and flavor of a cake, just smaller!
But great things do come in small packages.
Set up different flavors of beautifully decorated cupcakes in a gorgeous display your guests can enjoy.
Cupcakes might be a good option if you know you'll have several small children at your wedding who might have some more trouble with cutting.
(Though, adults won't turn down a good cupcake either).
3. Macaron Table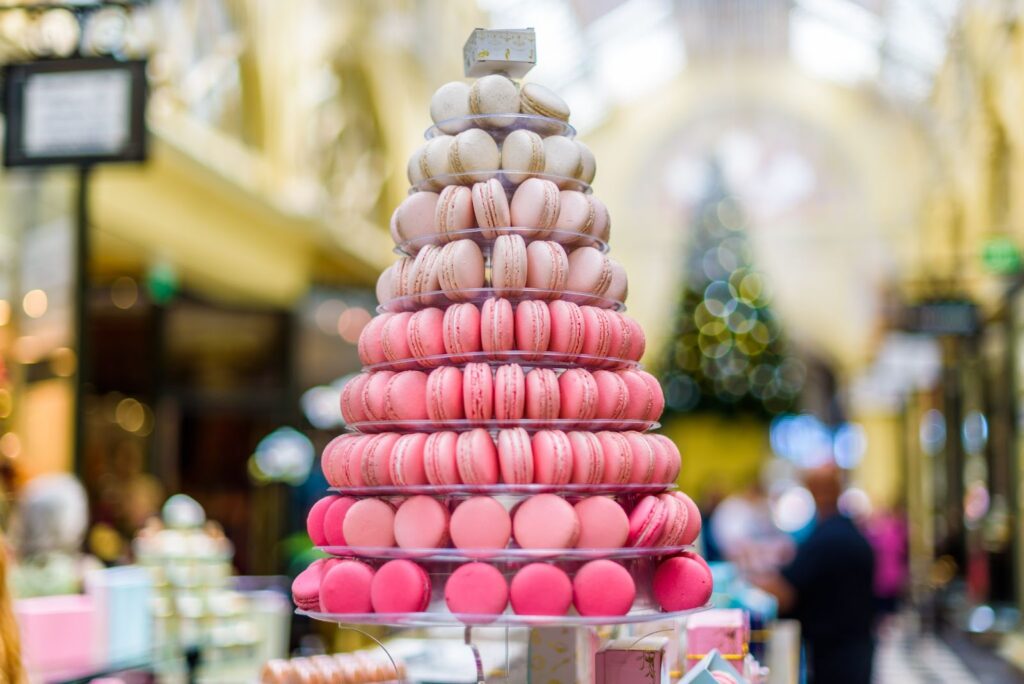 Need help figuring out your wedding budget?
We know that all weddings are unique and so are wedding budgets. Let us share a customized cost estimate based on YOUR preferences in catering, decor style, season and more.
Here's where the wedding dessert table ideas start to get creative. 
Macarons look great on display, come in countless delicious flavors, and are generally a mess-free dessert option.
Chocolate, vanilla, or coffee are usually the fan favorite, but the possibilities are endless.
They're an original choice that adds a bit of French flair to your wedding reception.
4. Cheese Table
Here's a wedding dessert table idea for your guest who may not have the sweetest tooth.
(And it pairs well with the French-themed macarons)
Cheese makes for a sophisticated and refined dessert, and the different flavors and textures will surely please everyone.
Just have some wine at the ready and you're all set. 
5. Crepe Table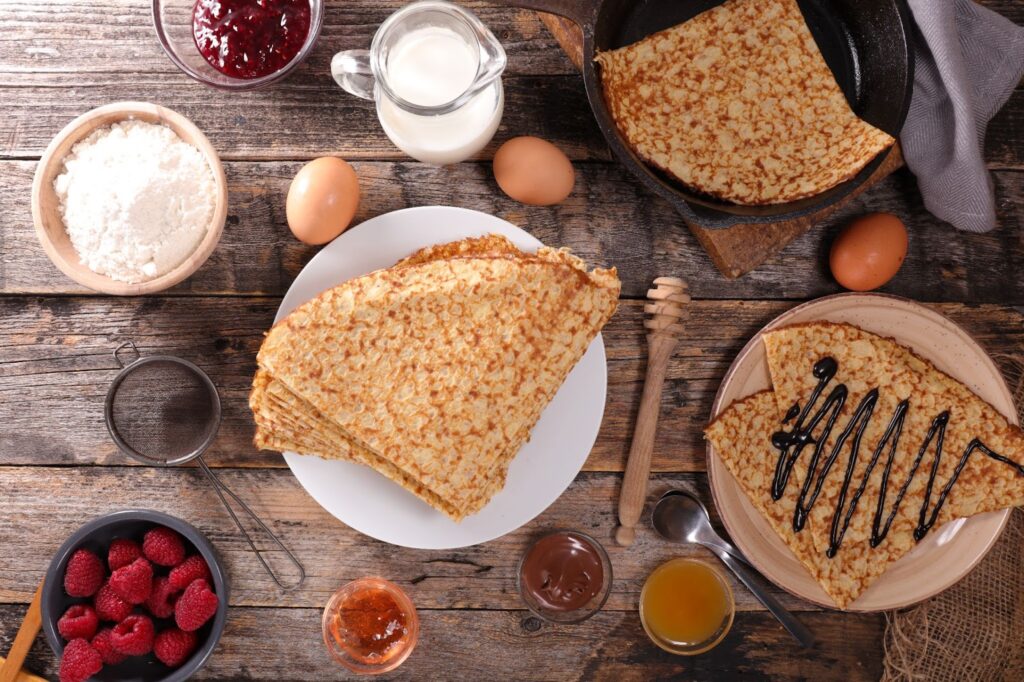 And here's one more French-themed wedding dessert table idea for good measure
Crepes come in several different flavors both sweet and savory, like strawberry, Nutella, or ham and cheese.
Making your own crepes is pretty simple, but if you want to go the extra mile, you can even hire a crepe maker for the reception!
6. Candy Table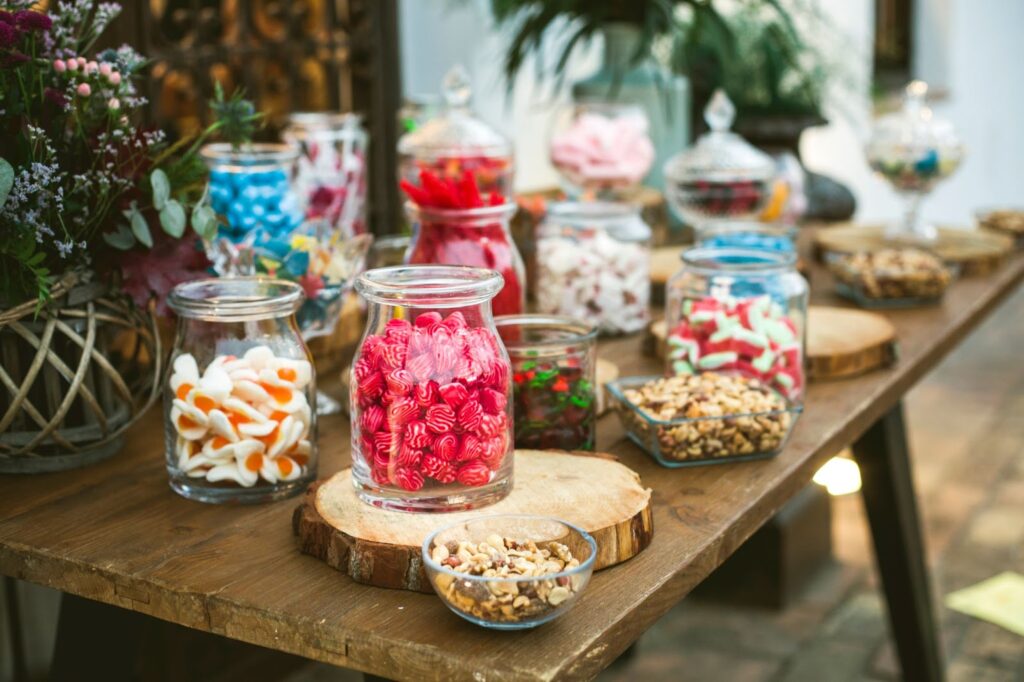 Now to flip the switch and go with the ultimate wedding dessert table idea for anyone with a sweet tooth. 
No need to get fancy; when in doubt, just go with some good ol' candy!
From Twizzlers to chocolate kisses, everyone's got a favorite that they'll be happy to see at your reception.
Make your guests feel like it's Halloween all over again!
7. Smores Table
We hope you haven't had enough, because you've got smore wedding dessert table ideas left to look at.
Melted marshmallows, melted chocolate, and some crackers are frankly a difficult combination to turn down.
While there's always a good excuse to make some smores, these would make an extra tasty dessert if you're having a winter wedding reception.
Or even if you're having an outdoor wedding on a cozy summer night.
8. Donut Table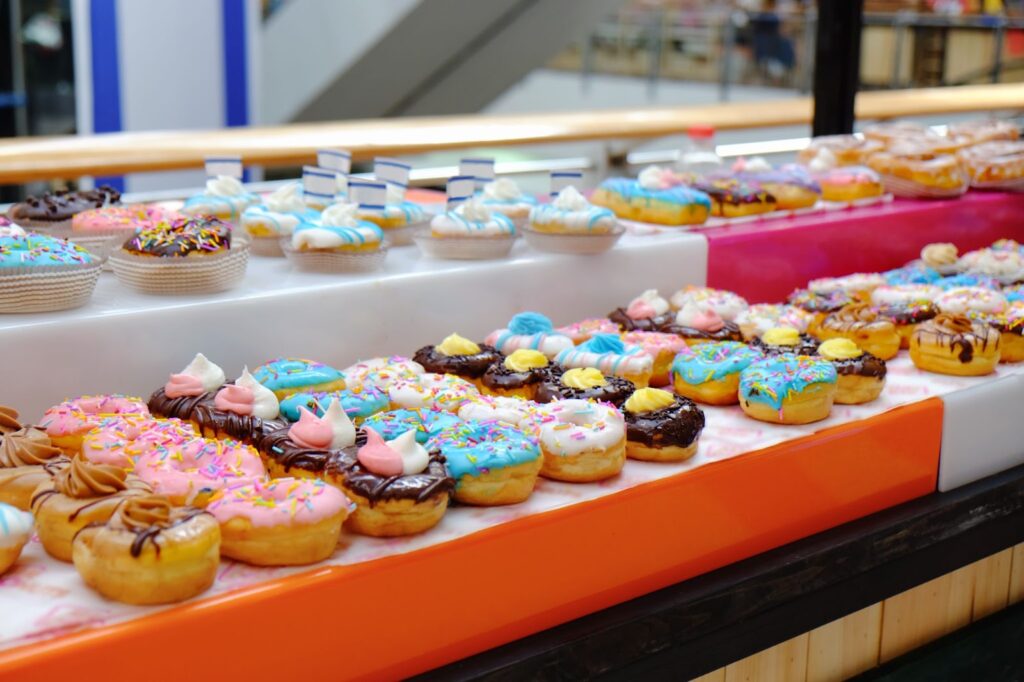 Like the cupcakes, donuts can come in dozens of gorgeous designs and delicious and unique flavors. 
And like the macarons, donuts are a fairly mess-free dessert option.
Plus, for those guests who may not want to indulge in a whole donut, you can also have the smaller (but just as delicious) donut holes.
9. Fruit Table
A wedding is a special day, and a special occasion certainly calls for sweets.
However, some fresh fruits might also be a welcomed option amongst all the other sugary snacks.
You can make countless delicious desserts with all your favorite fruits all while avoiding a sugar headache.
But who says you can't sneak in a little chocolate fountain? 
10. Ice Cream Table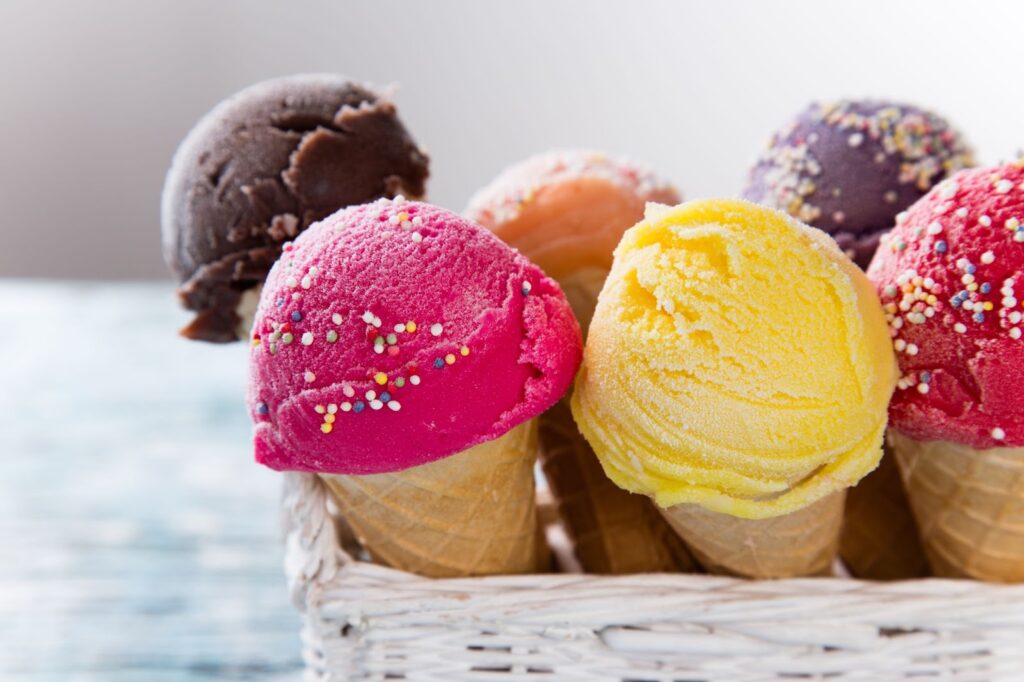 I scream, you scream, we all scream for ice cream! 
Well, hopefully no one actually screams at your reception, but surely everyone will be happy to see you serving this dessert.
Feel like a little kid on a warm summer day again and have an ice cream dessert table for you and your guests to enjoy.
Now, what kind of toppings will you have? 
11. Cotton Candy Table
Mess-free, easy to make, and it pleases anyone of any age.
There's no need to overthink it with this crowd pleaser.
Cotton candy makes for another playful and out-of-the-box wedding dessert, will you be going with pink or blue? 
12. Cookie Table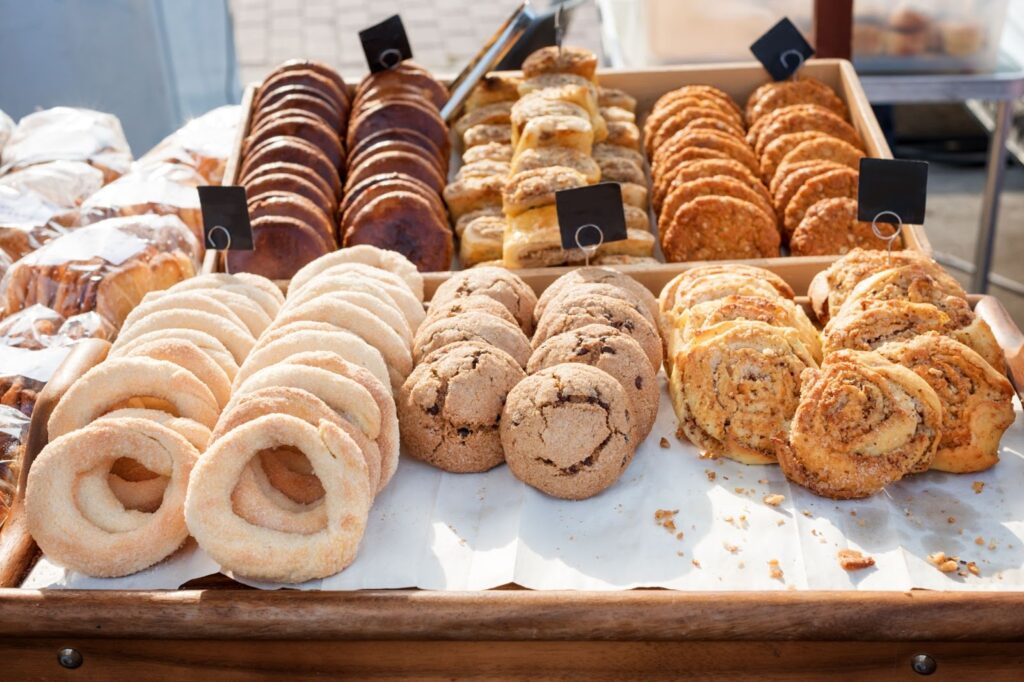 There's nothing like the smell of freshly-baked cookies to get guests running to the dessert table. 
Another crowd-pleasing dessert option, all you have to do is have a great variety of cookies and that way each of your guests can find their favorite.
Whether you're going with moist, crispy, or full of frosting, these desserts will melt in your mouth!
13. Churro Table
Here's another fun dessert option for the newlyweds who are kids at heart.
Churros are easy to eat, delicious, and come with several yummy toppings like chocolate or caramel.
They're a great idea for a fun, outdoor wedding.
It'll be like you and your guests are at a carnival!
14. Pie Table
Like the cookies or the cupcakes, having a pie-themed wedding table is a crowd-pleaser due the fact there's so much variety.
Key lime pie goes excellent for a summer wedding; a warm apple pie sounds delicious in the fall.
But also, your wedding, your rules! You can have them all in one place.
Your guests can go up and cut their own slices, or you can even find some Pinterest-worthy personal pies.
15. Pancakes and Waffles Table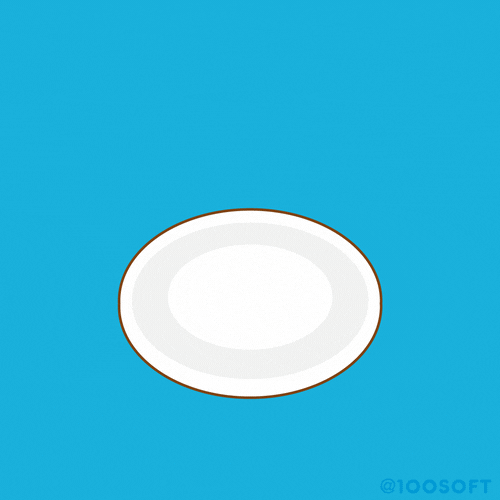 Lastly, we have a pancakes and waffles table. 
And while breakfast is enjoyable any time of day, pancakes and waffles are a great midday brunch reception option.
Warm, fluffy pancakes and crispy waffles make anyone's day, and reception.
Final Thoughts
At the end of the day, it's not very difficult to mess up dessert.
And we hope one of these wedding dessert table ideas inspires you for your own reception.
Whether you want something simple or something more refined, you have several fantastic options that you can even mix and match to top off your already unforgettable wedding meal.
At Milestone our priority is providing you with the sweetest possible wedding (pun intended).
We hope to play a part in planning your special day.