Reading about all these delicious food options might make you a little hungry, so we suggest having a box of pizza or some pretzels on hand while you go through this article.
There is certainly a lot that goes into planning the perfect reception.
What will your first dance be?
How many guests are coming?
Will you throw your reception outdoors or indoors?
No doubt, these are all important things you need to be thinking about.
However, one of your priorities when planning out your reception should be the food.
Food is often at the center of large and important gatherings like weddings, and your guests will be expecting some fuel in order to keep celebrating your big day.
You have your staples like desserts and cocktails, but there are also the main courses to keep in mind.
Terms like appetizers and hors d'oeuvres may seem like complicated terms to those of us who don't work in the food industry, but they are a standard at weddings and you can always go to your caterer if you have any questions.
But for the sake of this article, we will be focusing on the differences between a wedding appetizer table and stationed hors d'ouevres, both options involve guests serving themselves.
So without further ado, here is Milestone Events Group official guide for wedding appetizer tables vs stationed hors d'oeuvres.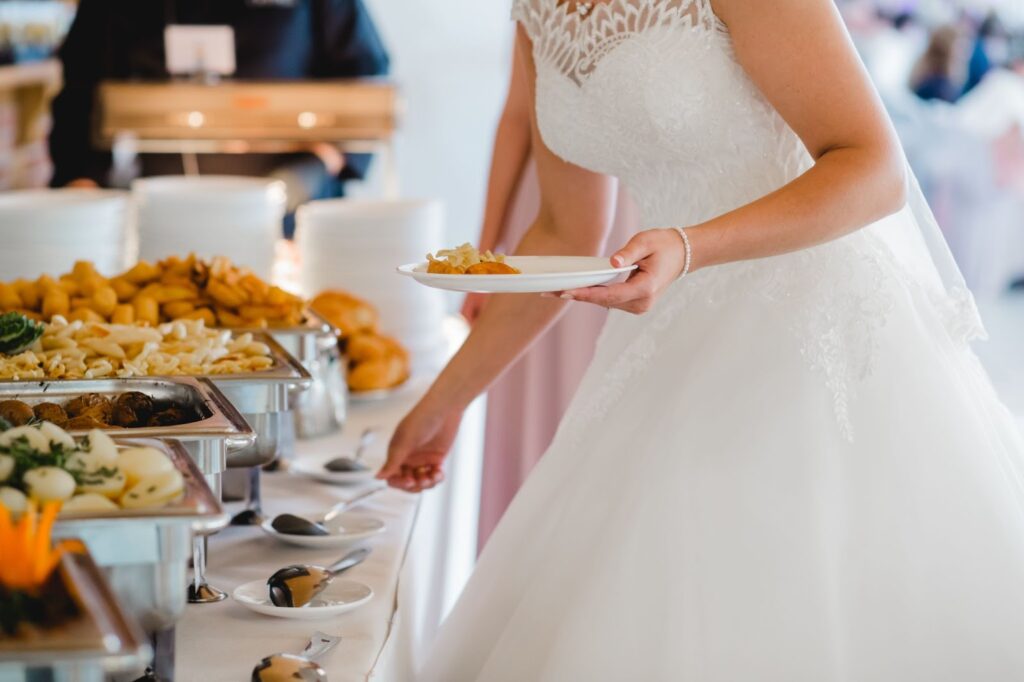 Appetizers vs Hors D'oeuvres: What's The Difference?
Admittedly, "appetizer" and "hors d'oeuvres" are phrases that get thrown around in the culinary world which some may even use interchangeably.
Especially amongst those of us who don't work in a kitchen or aren't professional chefs.
And there definitely is an overlap between the two.
For example, appetizers and hors d'oeuvres are both meant to be small portions of food that aren't meant to completely fill an appetite.
(Though an exception can be made with an appetizer table; keep reading to learn more).
And both appetizers and hors d'oeuvres can be sweet, savory, crunchy, or any other characteristics you want in your reception food.
However, they aren't the same thing.
So, if you want to stay well-informed for your wedding (or impress your friends during your next night out), keep reading to learn the difference.
What Is An Appetizer?
Essentially, an appetizer is meant to warm up your palette and start preparing you for an upcoming entrée.
If you're seated at a table, an appetizer is often the first course.
It can either be finger-food or something eaten with a knife and fork.
Examples of appetizers can be soup, sliders, and salads.
And finally, while it's not normally the case, an appetizer can in fact be served without a main course.
(If you're thinking of offering a wedding appetizer table, at your reception, you can get away with not having a main course.)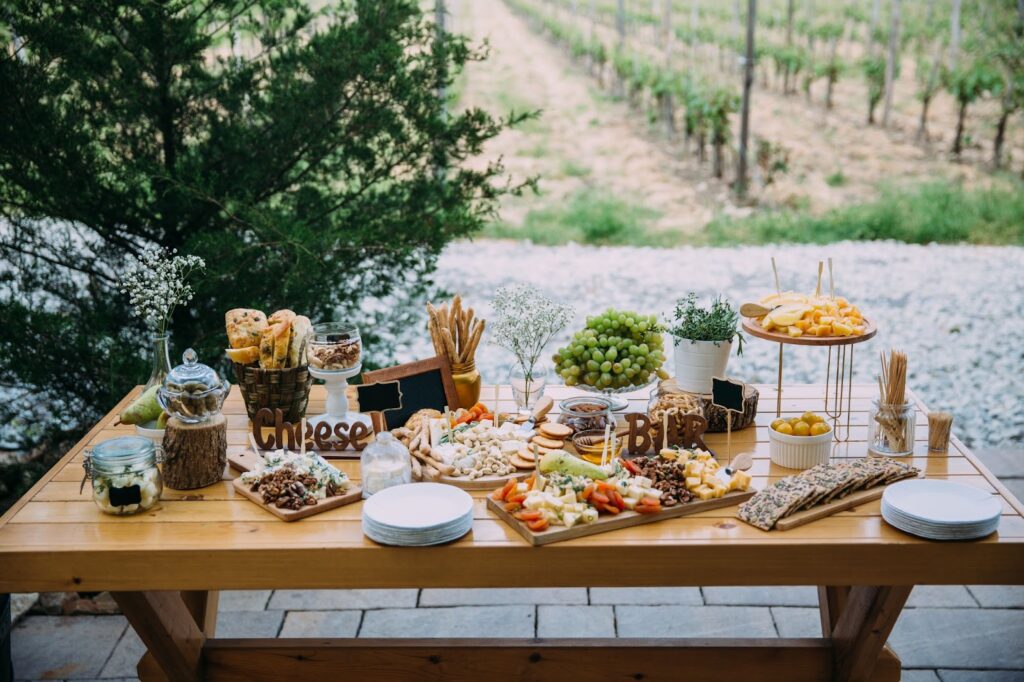 Need help figuring out your wedding budget?
We know that all weddings are unique and so are wedding budgets. Let us share a customized cost estimate based on YOUR preferences in catering, decor style, season and more.
What Is A Wedding Appetizer Table?
We've gone over appetizers, now let's look at the trendy wedding appetizer table.
Similar to a wedding grazing table, a wedding appetizer table is a table meant for guests to eat at their leisure.
It is available all throughout your reception, along with refills.
Your wedding appetizer tables can come in several fun categories, like charcuterie, sushi, or savory fruits.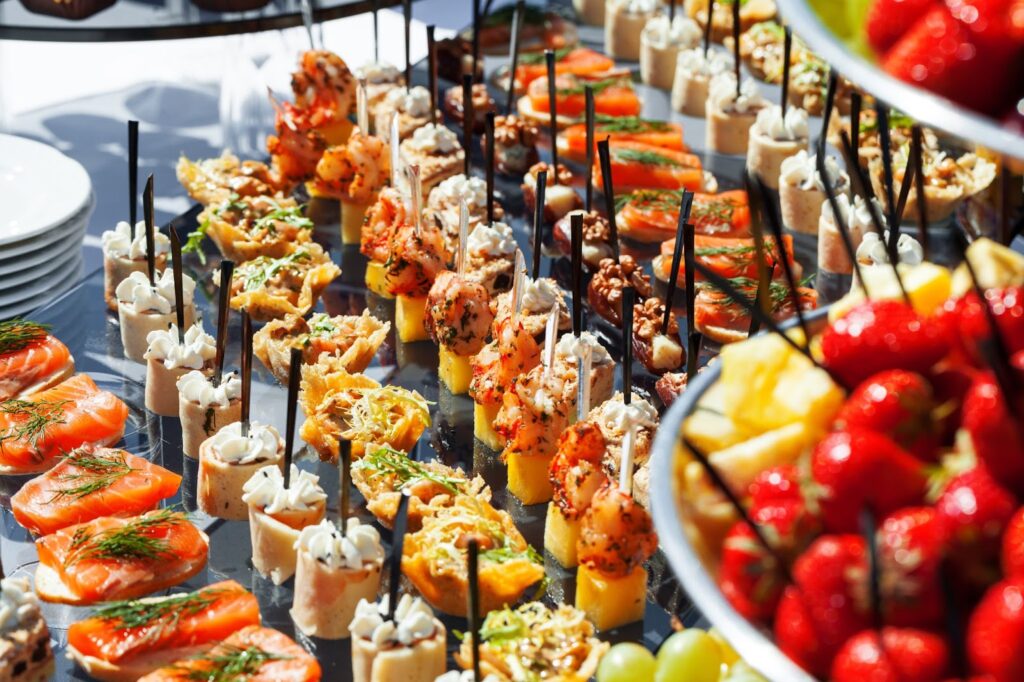 What Is An Hors D'Ouevre?
"Hors d'oeuvre" (pronounced awr durvz) actually comes from a French expression meaning "outside of the meal".
And this is, in fact, the fundamental difference between an appetizer and an hors d'oeuvre.
While an appetizer is meant to accompany the main course, an hors d'oeuvre is served separately from a meal on its own.
Often, they are served with a cocktail while guests mingle.
Unlike appetizers, hors d'oeuvres are usually finger foods and can be eaten while standing up, like crudités, shrimp cocktails, or flatbreads.
Additionally, while appetizers are usually served at the beginning of the meal, hors d'oeuvres technically can be served at any time, though they are most popular at cocktail hour.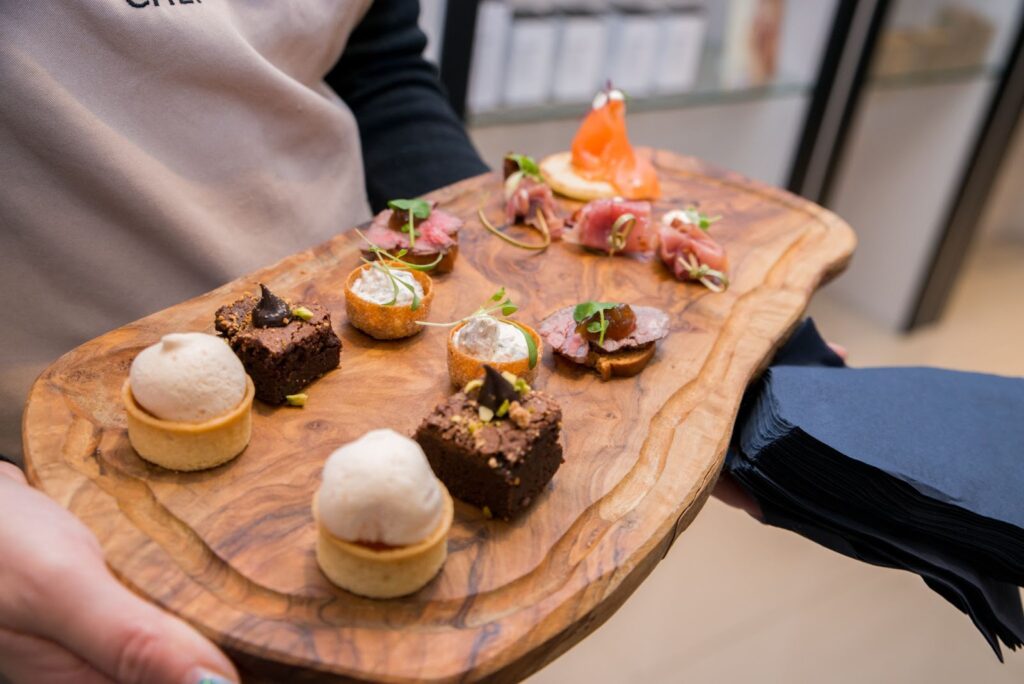 Passed vs. Stationed Hors D'Ouevres
There are also specifics you need to think about when it comes to hors d'eouvres, like whether you want a passed or a stationed option for your reception.
Passed hors d'oeuvres means there are servers walking around with trays, while stationed hors d'oeuvres resemble a wedding appetizer table.
And for the sake of this article, we're discussing stationed options where guests generally have more autonomy over their reception meal.
Therefore, we will be comparing and contrasting the two latter options in order to help you make a decision.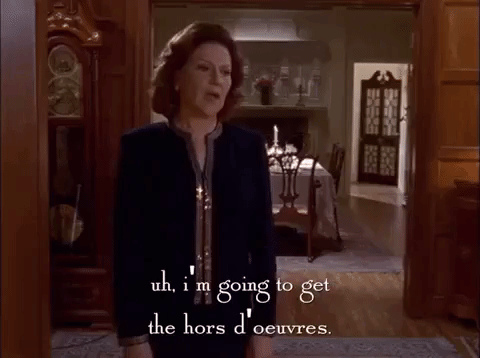 Wedding Appetizer Table vs Stationed Hors D'oeuvres: How to Decide
Decisions can be tough, especially when it involves choosing between delicious foods.
Luckily, there are few things you can take into account concerning your wedding reception that can help make the choice between a wedding appetizer table vs stationed hors d'ouevres a little earlier.
Formal Reception or More Relaxed?
Some couples want a more traditional wedding reception with a sit-down dinner and a formal three-course meal. That's great.
Other couples want a more relaxed vibe at their reception with more familial meals and time to mingle. That's awesome too.
However, it's useful to know which feel you're going for in order to choose whether you're going for a wedding appetizer table or stationed hors d'oeuvres.
A wedding appetizer table is the trendier option, so for those of you who may not want so much pomp and circumstance at your reception, the wedding appetizer table is the more laid back option,
However, if you are looking to have a more formal reception with a little bit more moving around than a traditional reception, the stationed hors d'oeuvres are an excellent and memorable choice.
Keep Your Wedding Budget in Mind
Of course, you have to take account of your expenses.
Hors d'oeuvres are normally a more expensive wedding option, since they require more work.
Plus, as previously mentioned, you can have appetizers without a main dish, but not really the other way around.
So, if you're thinking about budgeting, a wedding appetizer table might be the more economic option if you're planning on having other larger expenses at your reception.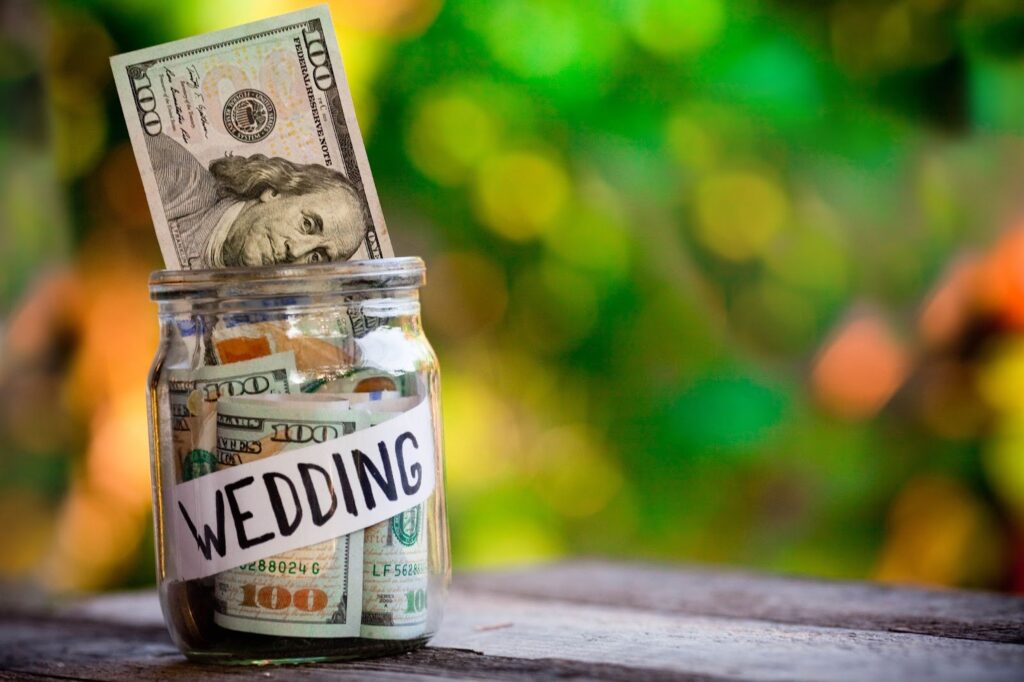 Does Your Venue Have A Kitchen?
This one is a fairly simple yes or no question.
Many hors d'oeuvres are equipment and kitchen sensitive that need ovens or frying (hence the higher price).
So, if your venue has a kitchen, you can continue to consider the stationed hors d'oeuvres.
However, if your venue doesn't have a kitchen, the wedding appetizer table is your other great option!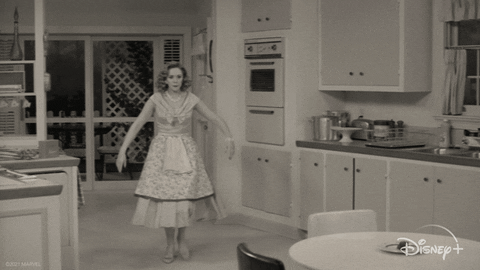 Final Thoughts
So, we've gotten to the end of the article, and maybe by now you've finished your snack.
We've gone through the differences for the two options, and we hope that our guide gave you a better idea of which might work best for you.
At the end of the day, a wedding appetizer table and stationed hors d'oeuvres are two great options to keep your guests moving and mingling throughout your reception.
So long as you have an understanding of your venue, the feel of your reception, and a caterer willing to walk you through the steps of planning your menu, you're all set.
At Milestone, we wholeheartedly believe in helping our clients through every step of the wedding-planning process.
We hope that we can be a part of your wedding story, too.