Getting married and having a hard time figuring out logistics for seating? Wedding table sizes can be tricky if you don't plan weddings everyday, but they don't have to create stress.
Here is an expert guide to your tables: types, sizes, how many people can fit comfortably?  
RECTANGLES
Rectangle tables, commonly known as "banquet tables" are best suited if you have a narrower dining area or are short on event space. Rectangle tables will elongate the room and are also great for gathering bigger groups of friends together. You can get away with doing a variety of small floral arrangements or long pieces of garland for décor on these tables.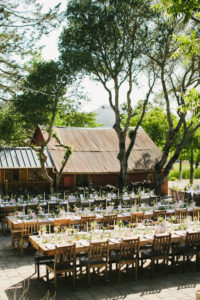 Sizes
Rectangle tables come in various sizes. For dining, an 8' by 30" table works best if you have a simple table design, meaning small floral arrangements, 1 water glass, minimal china or glassware. They also work well with buffet or plated style meals. You will want to use a wider table if you are doing family style, such as an 8' by 40" table to allow for more space.  
When considering how many people per table, a 30" table is best with guests sitting on either side and not "capping" the table, meaning one at either end. A 40" or "queens" table is also ideal for 8 guests, great for all service styles as they provide more table space. A 48" wide table or "kings" table is great if you want to add a guest to either end of the table, making them 10 tops. To compare sizes and what fits comfortably at each table, see diagrams below. We recommend giving 2' or 24" of space per guest for the most comfortable dining experience on a rectangle table.


ROUNDS
Round tables are great to achieve a communal dining atmosphere. Guests can easily engage in conversation with others sitting around the table. They work well if you need to fill up space, or if you are working with a unique event space. You can also mix different sized round tables to accommodate more guests at a table if needed, without changing the look completely.  Mixing and matching your wedding table sizes and shapes is becoming more popular too and can create more visual appeal.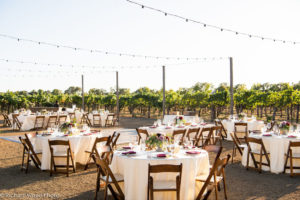 Sizes
Round tables are measured in inches, by diameter, usually a 48" table, or 4' across will accommodate 6 people comfortably, a 60" table will accommodate 8 people, and a 72" will accommodate 10 people. These numbers can give or take a bit when considering your design. Below are diagrams of the different round table sizes and suggested number of seats per table.  

Tablescape
Our standard table scape typically includes: 2 forks, 2 knives, a charger or napkin setting, water glass, wine glass, and champagne flute for the table. The more glassware and flatware you have, keep in mind the more space you will need at the table.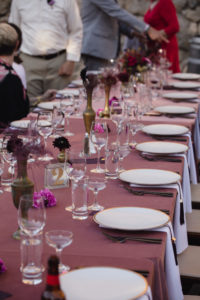 There are multiple options for planning your wedding tables sizes and tablescape online and working on your layout. We use Aisleplanner as a resource and other commonly used options include AllSeated.com and Social Tables.
A professional wedding planner will be able to assist you in formatting your layout to scale and fine tuning what's best for your event flow and guest count.
About the author: Milestone Events Group is Northern California's most experienced Wine Country Wedding Experts & largest event management company providing site selection services to multiple locations throughout Sonoma County. Over the past 5 years Milestone has helped hundreds of couples simplify the venue selection process by providing clarity, predictability and ultimately confidence for clients who work with them to evaluate wineries, ranches, and other locations for their private events.

After the venue selection process is complete, Milestone is also available to help produce events in a stress reduced and highly professional manner. www.MilestoneEventsGroup.com