Unless you're a professional chef and you plan on preparing the meals yourself, chances are you plan on hiring outside catering.
This can sound like a lot of pressure, but we're here to break it down for you.
Have you ever been to a party that didn't serve anything to eat?
Thankfully, neither have we.
Food often ends up being a highlight of a party.
It can help bring people together and bond over the delicious plates.
Plus, it's a little difficult to celebrate on an empty stomach.
If you're visiting our site, you're likely in the middle of planning your wedding and have heard all about the importance of your wedding menu.
And we can definitely concur.
An incredible wedding menu is a must.
Which, in a culinary capital like California, won't be very hard to get your hands on.
Different Kinds of Catering Options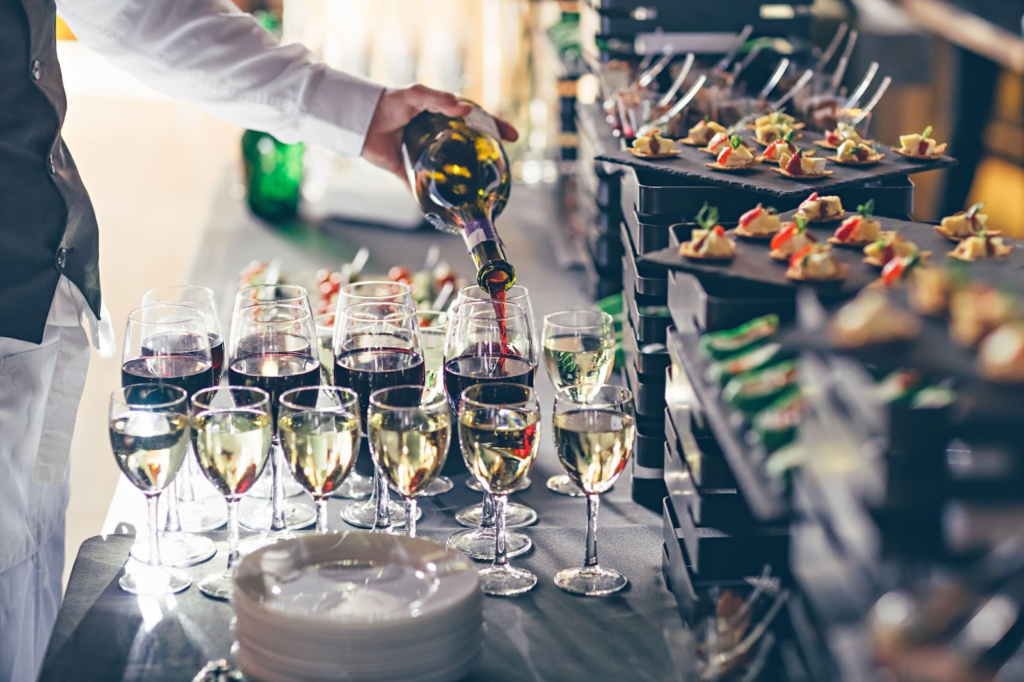 Before going over some more general tips, we think it's worth it to go over the different kinds of outside catering you can hire for your wedding reception.
It's helpful to have an idea of what you're going for.
This makes the process of finding a caterer a bit easier.
Do you want a more formal feel?
Or would you rather have the guests serve themselves?
Keep reading for a comprehensive breakdown.
Full Service Wedding Caterer
Like the name might suggest, a full service wedding caterer takes care of everything.
Of course, the caterer provides the food.
But they also provide the alcohol, linens, furniture, plating, and staff.
The obvious pro of a full service wedding caterer is that you don't have to worry about a thing.
No need to hire a million outside vendors!
It's also fairly efficient.
This is because your guests are normally sitting down while waiters and staff distribute the plates.
However, you have to be OK with putting all of your eggs in one basket, so to speak.
And since you're asking a lot out of one caterer, you should be aware that a full service wedding caterer tends to be the most expensive option.
Drop-Off Catering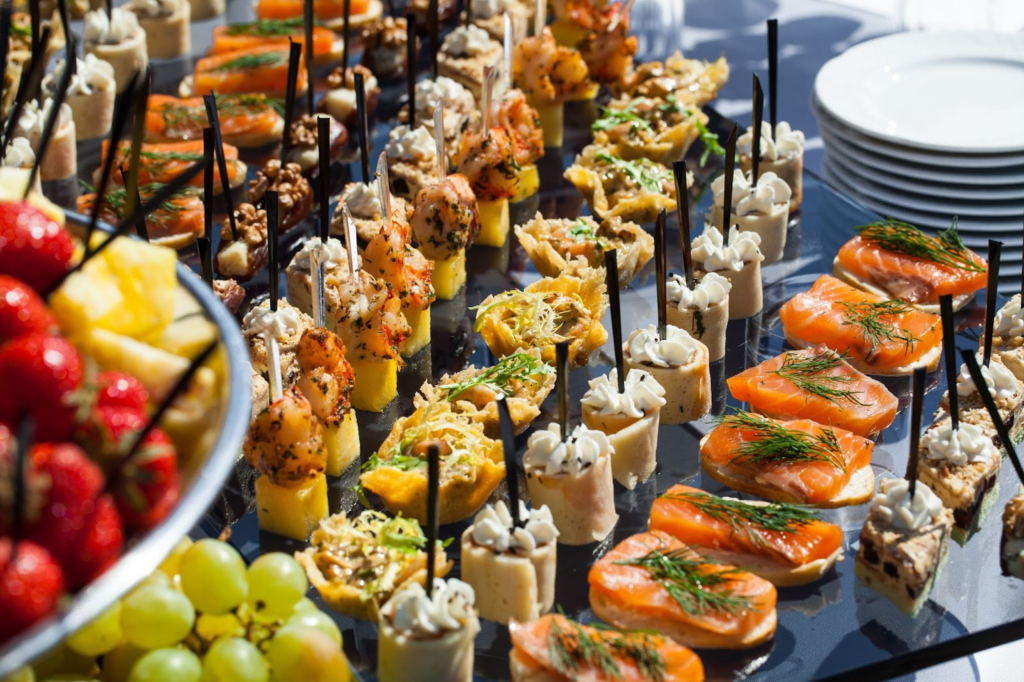 Drop-off catering is most often used for buffet-style meals.
You're not using as much staff, for one thing.
So this option is certainly more affordable than the full-service option.
This allows for a more relaxed atmosphere where guests can mingle and serve themselves at their leisure.
And a buffet normally means a bigger wedding menu with more options that will please everyone.
With drop-off catering, your caterer usually sets up and breaks down the buffet.
But there normally isn't any staff in-between.
In other words, there might not be anyone supervising the buffet during the actual reception.
And things may not go as smoothly as a result.
Self-Catered
No, this doesn't necessarily mean you're cooking the food yourselves.
Oftentimes restaurants or chains will offer the possibility of catering your event.
This can be a fun way for you and your spouse to customize your reception with all your favorite foods and maybe even set a more informal tone.
(McDonald's at your wedding? Why not?)
However, since you're not working with professional outside catering, this might put more work on you.
And if you're having a large reception with lots of guests, this may not be totally worth it.
Need help figuring out your wedding budget?
We know that all weddings are unique and so are wedding budgets. Let us share a customized cost estimate based on YOUR preferences in catering, decor style, season and more.
Food Truck Wedding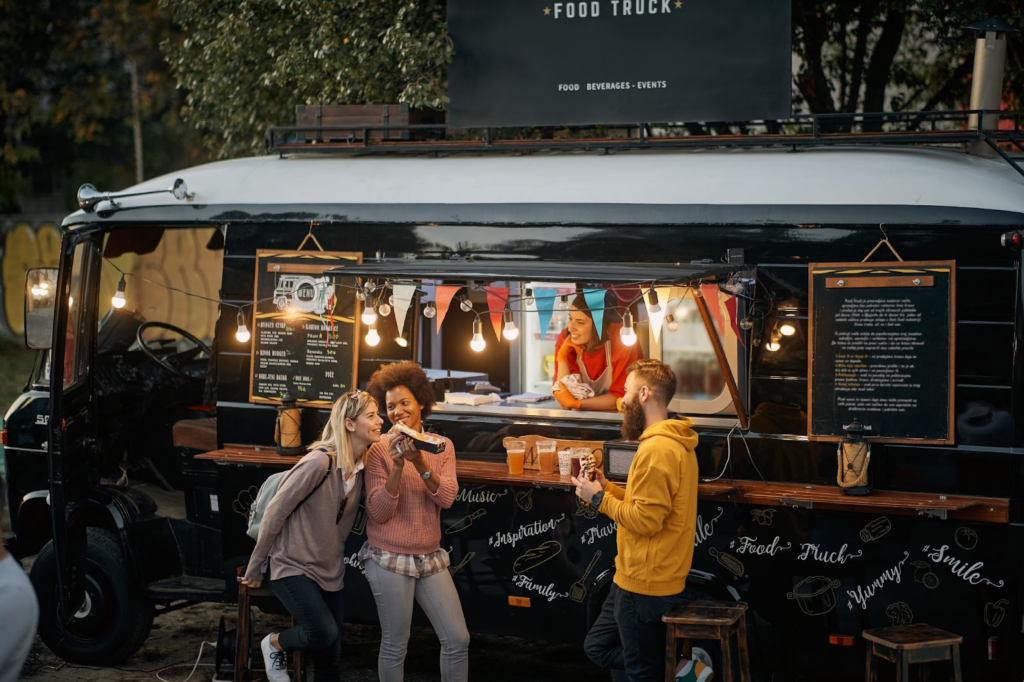 Finally, we have the trendy, foodie friendly, food truck wedding.
Food trucks are easily the most adaptable and affordable of all the outside catering options.
You also really get to customize your menu, since there are food trucks for everything.
Not to mention you get to support a local small business.
And your guests can eat whenever they want and help themselves to seconds!
Though, if you're hoping to incorporate food trucks into your reception, be sure they work with your venue.
They do work best in an outdoor setting.
Keep in mind that many food trucks aren't accustomed to having large crowds at one time.
Food trucks work better for smaller, more intimate, and less formal weddings.
General Tips for Hiring Outside Catering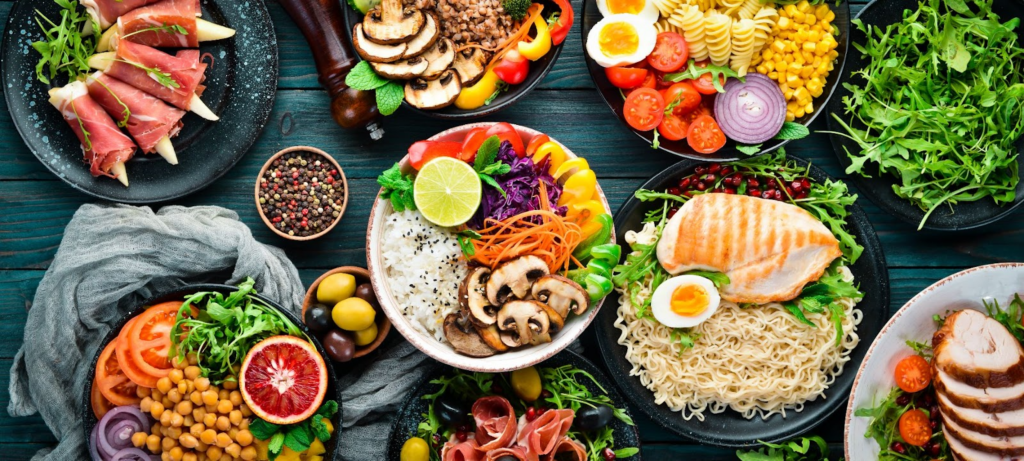 Hopefully by now, you've figured out what kind of outside catering you feel is right for your reception.
Now that we've gone over some basics, let's go over other pieces of advice that'll help you hire the right outside catering for you.
Narrow Your Search
You can't test out every single vendor in your area.
This is way too time consuming and overwhelming.
And hopefully you've already decided on a catering style.
That certainly helps with narrowing down the field!
If you have limited experience with using outside catering, it's best to get recommendations from others.
Our suggestions include your wedding venue, your vendors, or even friends you know who have recently gotten married.
Have A Taste Test
Most caterers are willing to give you a taste test before sealing the deal.
(And if they aren't, maybe take that as a sight and move on to a caterer that will!)
You're going to want final approval of your wedding menu and of the various dishes being served at your reception.
After all, you're spending extra money on your wedding menu.
So you may as well be happy with it.
Be Prepared For Lots of Fees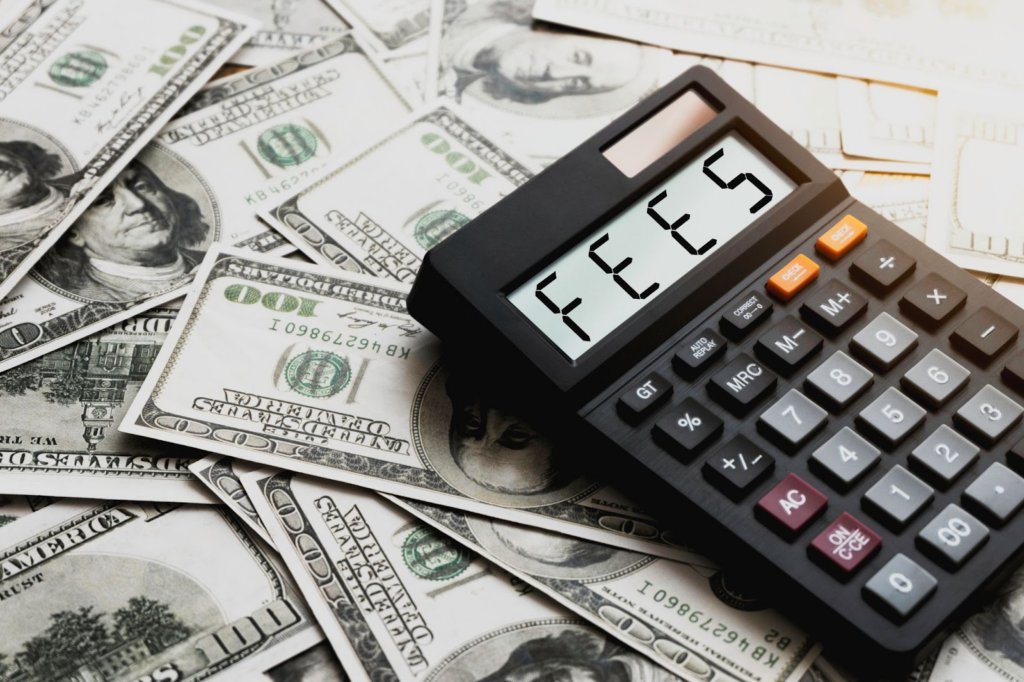 Often, catering companies will find very creative ways to tack on some extra fees.
There can be a transport or a delivery fee.
And they can even charge you more if your event is not within a certain-mile radius.
They can even charge you a fee for cutting your wedding cake.
Make your budget clear.
And try to quiz the caterer about every possible fee you can think of.
It's also worth it to ask if they offer any packages to save you some money in the long run.
You May Not Want an On-Site Kitchen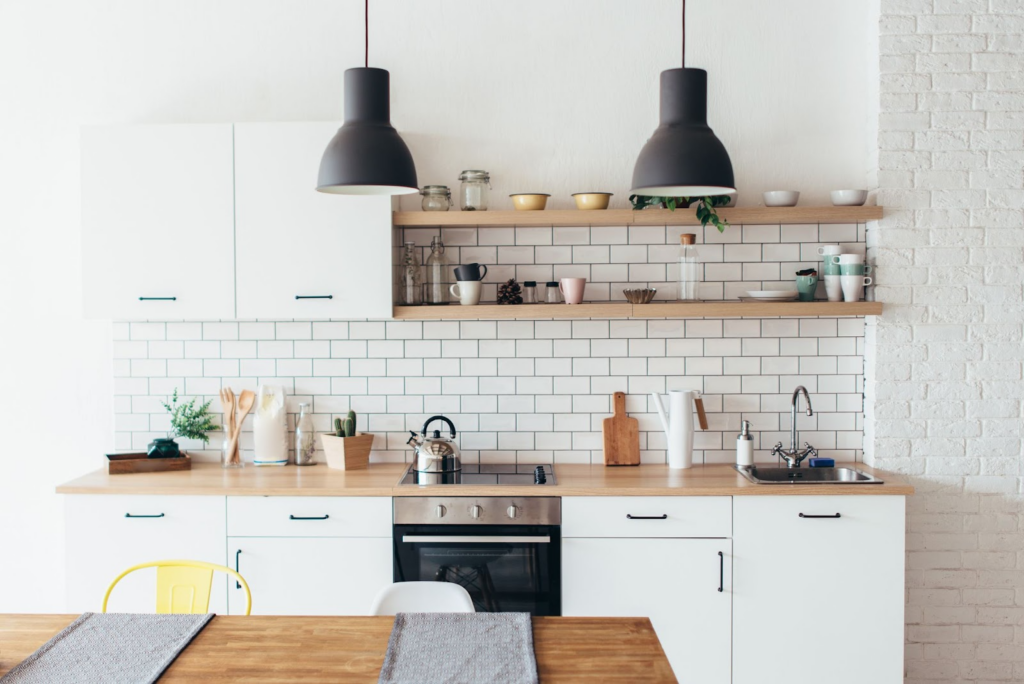 OK, we probably just freaked you out with all the different kinds of cooking and delivery fees.
And you might be thinking it might be best for your caterers to cook everything on site.
However, an on-site kitchen won't solve your problems, and it may even cause some more.
If you've ever tried cooking a full meal in an unfamiliar kitchen, you'd know that things can get a little complicated.
In other words, the preparation (and quality) of your food could be compromised with an unfamiliar kitchen.
There's also the possibility that the kitchen isn't completely equipped for your menu's needs.
So it may be worth it to pay for the outside preparation if it means being secure in the quality of your food.
Restaurant Catering: Cheaper but Tougher
Remember when we suggested the self-catering option?
We're definitely not discouraging it, and it could save you a bit of money.
But there's a difference between catering a corporate lunch and a fancy wedding reception.
In other words, restaurants are used to dropping off foods in to-go boxes or wrapped in foil.
And that might not be the vibe you're looking for at your reception.
I'll most likely be up to you to store the foods and keep them hot/chilled.
And frankly, you'll already have a lot going on on your big day.
Have A Walkthrough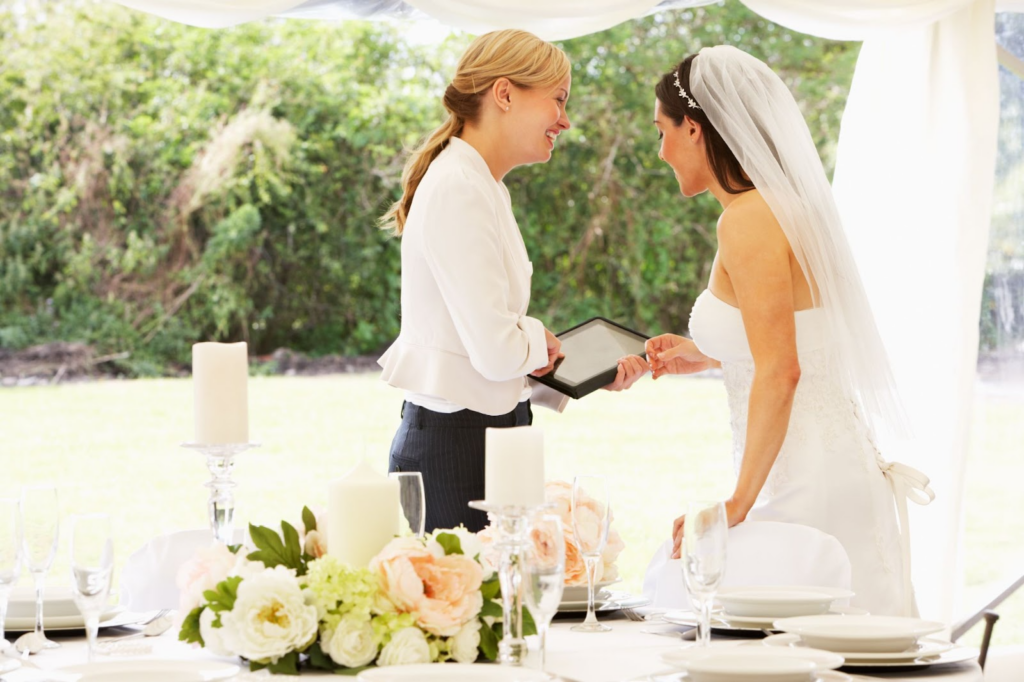 This step is a must.
You want to make sure your caterers and staff are familiar with the venue and the logistics of your reception.
It may seem like an excessive extra step.
But a final walkthrough really seals the deal for a stress free wedding reception.
Trust us on that!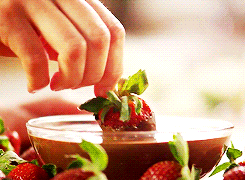 Final Thoughts
Here you have our advice for hiring outside catering for your wedding reception.
No matter what catering option you decide on, we suggest that you really think it over and take the necessary steps to have a seamless reception meal.
At Milestone, we know weddings, and we definitely know caterers.
If you're looking to marry in California, we know this state inside and out.
With our help, planning your catering will be a piece of cake.