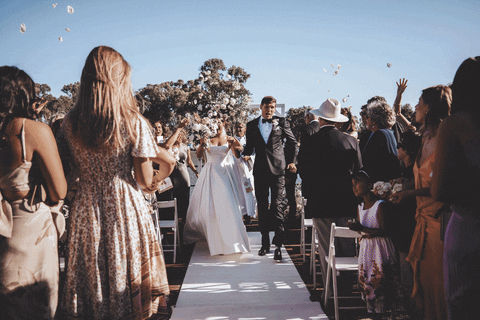 "How many people should I invite to my wedding" is certainly a daunting question.
Well, planning a wedding in general can be pretty daunting, but organizing a guest list can certainly be stressful.
However, we're here to help you out so it doesn't have to be stressful!
The people you invite are going to be linked to the memory of your wedding forever, and frankly, it's a privilege to get invited to your wedding at all.
So, from broader questions to more specific scenarios, let's walk you through how to come up with your perfect wedding guest list.
How Many People Should I Invite to My Wedding: Factors To Consider
Before we get into some specifics about the different sized-weddings you can have, let's first discuss some more general questions.
If you can immediately think of answers, you might be on the right track to deciding how many people you should invite to your big day. 
What's my budget?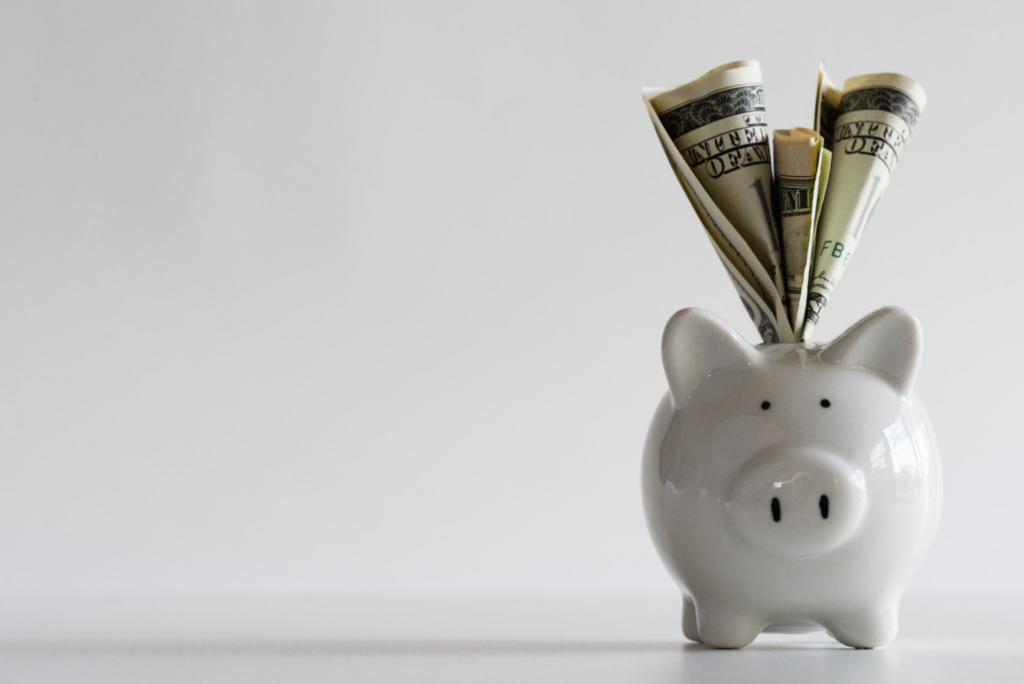 Let's start with the obvious.
If your budget is smaller, you might not have enough wiggle room for a giant guest list.
On the other hand, a bigger budget can mean a larger wedding party.
Though, it should be said, just because you have a bigger budget doesn't mean you automatically need to have a giant guest list.
Of course, if that's what you want, go for it, but if you have other financial priorities, go right ahead and reduce that list.
Is every guest equally important?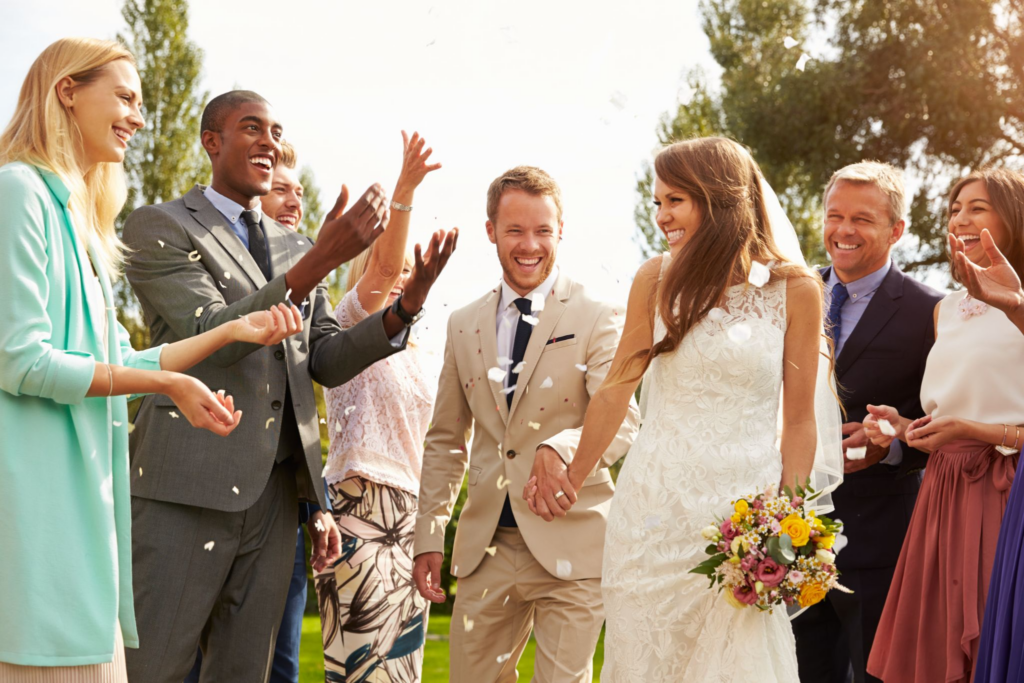 Let's be real: the answer is no.
Your siblings and dearest friends would hopefully take priority than other, more distant relations.
If you can, try and make lists of which guests are more of a priority and which guests aren't.
So if you do end up having to reduce your guest list, it'll be a little easier to make those tough decisions.
Why are you inviting this person? 
Who is this person, and why are they coming?
Do you think you'll actually be seeing this person again in five years? ]
If you can't come up with concrete answers, then maybe skip this person.
Should I invite people's kids?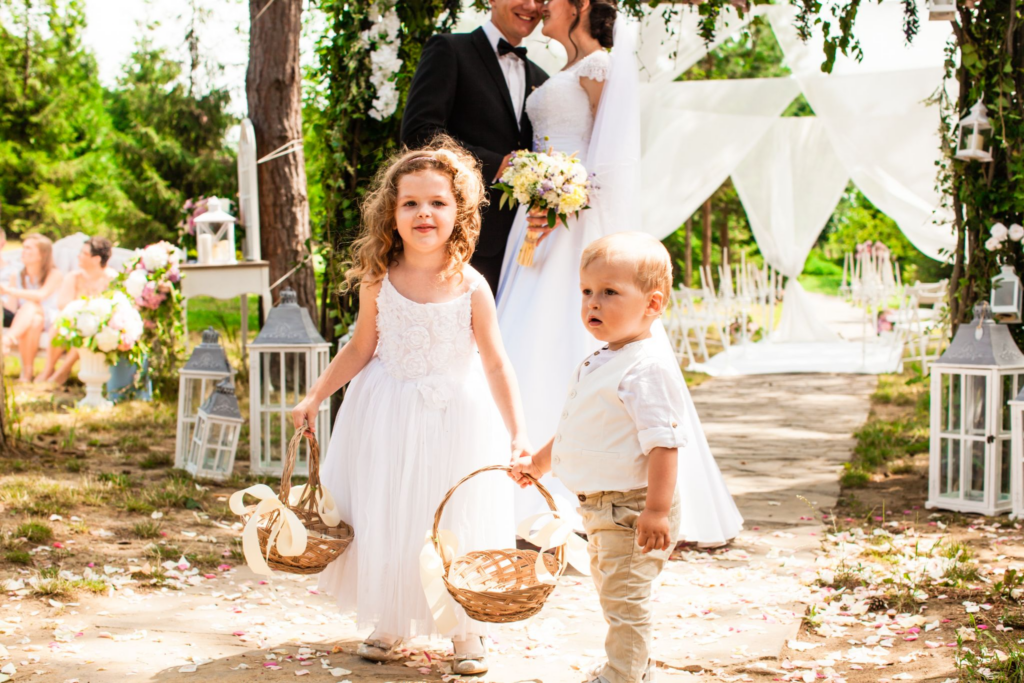 For some people, having kids at a wedding is a no brainer.
Maybe you have nieces or nephews (or even kids of your own) that you want to include in your big day or incorporate into your ceremony.
That's great.
But just know, children are extra guests and can bring up the price.
Maybe you want a more mature feel to your wedding and don't want kids at all, that's OK too.
Ultimately, it's your call, and don't worry about offending anyone with kids.
Just announce that your wedding will be child-free ahead of time, and if they love you enough, they'll understand and hire a babysitter.
What if everyone I invite RSVPs yes?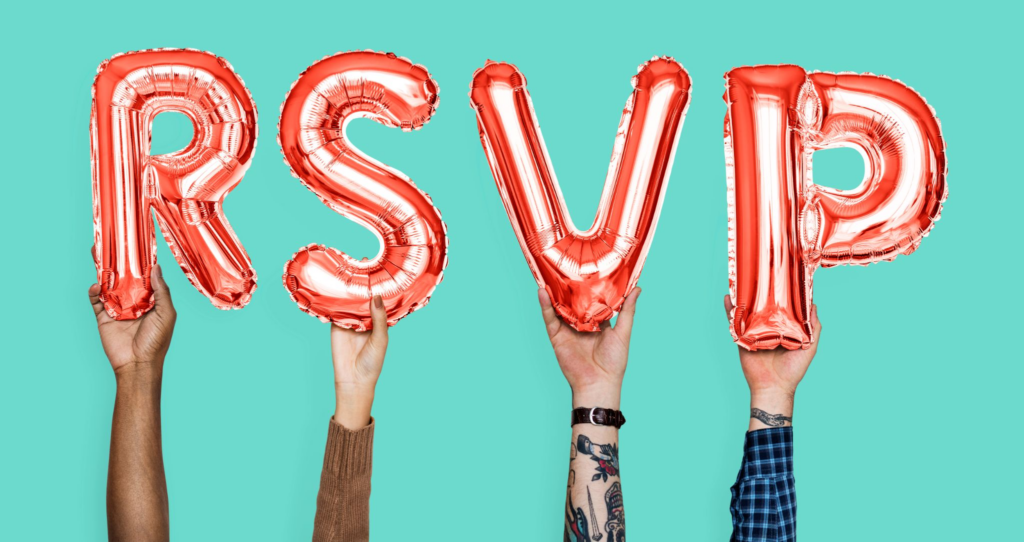 This certainly isn't very likely, especially if you're having a larger wedding reception.
However, for the sake of finalizing your guest list, let's do this hypothetical exercise.
What if everyone you send out an invitation to happens to say yes?
Would you truly be happy about that outcome?
If you aren't genuinely excited about the prospect of each one of your guests showing up, it might not be worth sending the invitation.
Realistically speaking, between 75%-80% of your invited guests will RSVP yes, but the catch is you don't know who will make up that 75%-80%.
So do try and be genuinely excited about who you invite.
Need help figuring out your wedding budget?
We know that all weddings are unique and so are wedding budgets. Let us share a customized cost estimate based on YOUR preferences in catering, decor style, season and more.
My parents/in-laws are paying, and they want to invite certain people that I don't
Your parents/in-laws have generously offered to pay for the wedding, but you might find that you'll butt heads from time to time and that they'll have their own ideas about the guest list.
They're excited about planning your big day too, and it may be respectful to give them a say on certain matters if they're paying.
However, it is your wedding at the end of the day, and they'll understand that it should be your opinions that matter most.
As a compromise, maybe suggest giving whoever pays a certain number of guests they can invite in their name.
How Many People Should I Invite To My Wedding: Different Wedding Sizes
Surely you've heard the words "small wedding" or "large wedding" thrown around in your wedding planning process.
But what exactly constitutes a small wedding or a large wedding?
Keep reading to figure out how many people you should invite to your wedding based on your wedding size.
How many people should I invite to my wedding: Elopement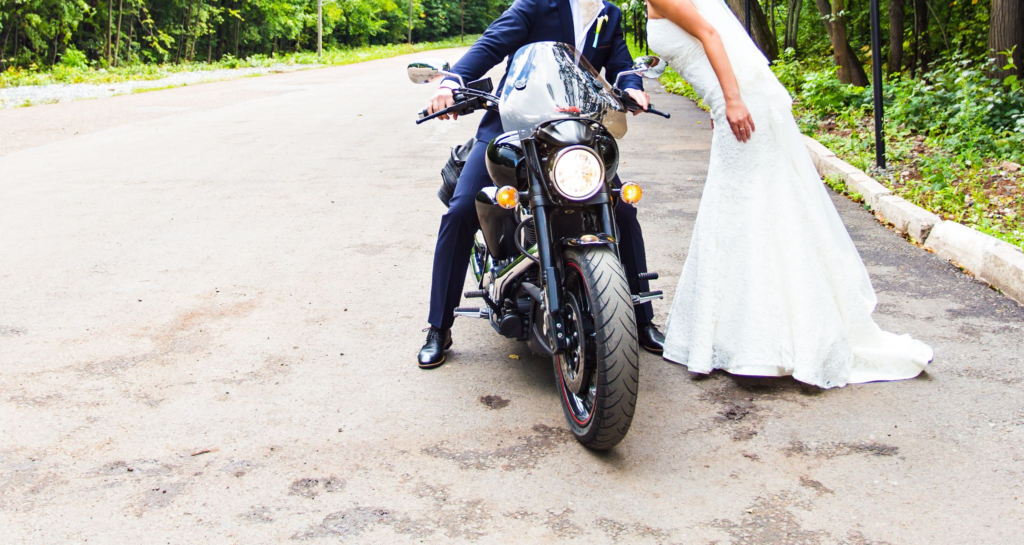 If you're eloping, it sounds like you want the smallest of the small weddings, and you're going for a more intimate feel.
Elopements are overall pretty affordable, and flexible venue-wise.
So if you're not a people person, this might be the option for you.
If you're having an elopement, don't even have to invite anyone at all, it could just be the two of you!
But, it's also traditional to invite 3-5 people if you want to have a few witnesses.
How many people should I invite to my wedding: The Micro Wedding
A micro wedding is not quite an elopement, but it's by no means a "small" wedding either.
A micro wedding with your nearest and dearest usually consists of about 10-20 guests, and this can be a great way to make your wedding feel personalized and relaxed.
Just a fair warning, it may be a bit difficult to decide which 10-20 guests you'll want to invite.
If this is the case, you're more than welcome to start this article over.
How many people should I invite to my wedding: Small Wedding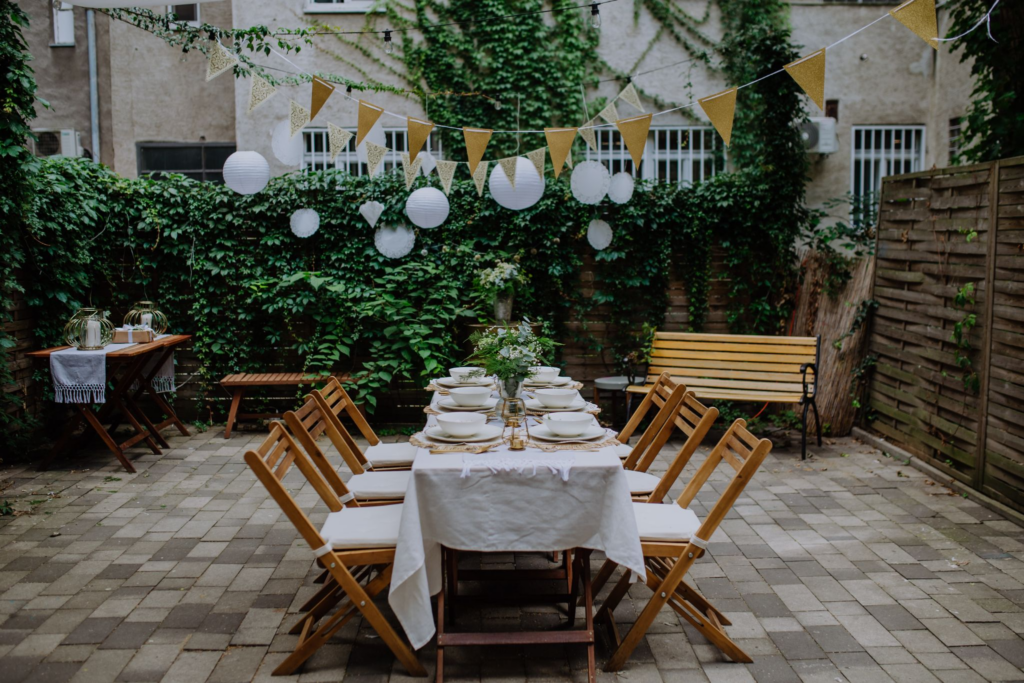 Now, we've gotten to what most people considered a standard small wedding.
Normally, this is just friends and family, and is 25-75 people.
You get the best of both worlds, since you do have a crowd at your wedding, but it's certainly not a large-scale party.
How many people should I invite to my wedding: Midsize Wedding
These days, the midsize wedding is the standard wedding size.
In other words, 100-120 guests. Not too big, not too small.
You get to have the feel of a bigger party with all the 'expected' invites plus a few extras.
Though beware, 100 people can still feel like a lot, and the bigger you go, the harder it becomes to find a venue.
How many people should I invite to my wedding: Larger Wedding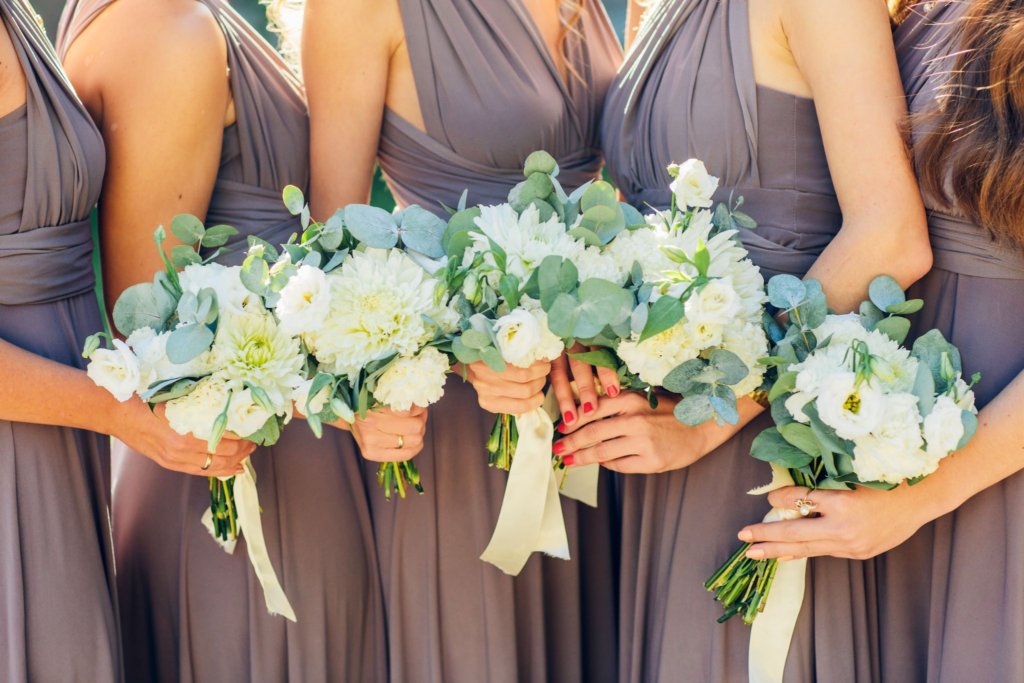 OK, now we're getting into "the more, the merrier" territory.
So if you don't plan on inviting more than 100 guests, turn back now.
But if you're still here, larger weddings usually consist of 150-200 guests.
If you've got the budget and you like planning a big party, then why not?
How many other chances do you get to throw a party on this scale?
How many people should I invite to my wedding: Mega Wedding
Truly, the sky's the limit here.
You don't just want a big wedding, you want a mega wedding.
The biggest weddings usually have at least 300 guests, and if you know enough people, then totally go for it.
You get to bring people together and include as many people as you'd like.
(Though with a larger guest list you might not be able to spend time with everybody!)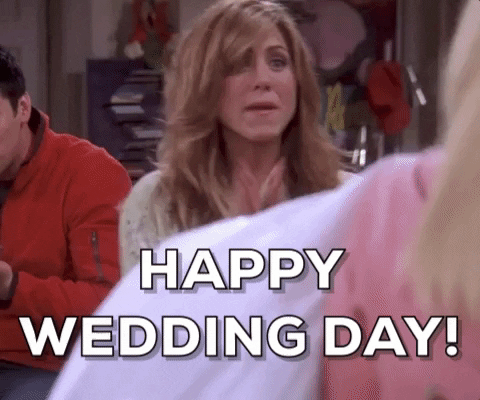 Final Thoughts 
Your day, your way.
Like we said, it's ultimately about who you feel gets to be a part of your special day.
That can mean your whole city, or just you and your spouse.
And whether it's an elopement or a mega wedding, Milestone is ready to help you make this vision come true.
.