It's the happiest day of your life. Your fiancé proposed and you're over the moon to spend the rest of your lives together. Once the newness of this large life event fades, reality sets in. So many decisions. Decisions you'd never imagined existed. Here's something you may not have thought about yet, "what kind of wedding reception tables should I use?"
A common challenge couples face during wedding planning is deciding between round, rectangular, or square wedding reception tables. Maybe you love the look of extremely long ones, but your venue is pushing you to have round tables, or vice versa. Venues are often blank canvases, so nailing down your plan for your wedding reception tables is the first layer of your textured reception decor.
If you search on Pinterest, there are a million photos of beautiful, sprawling, long tables. They are certainly on trend for 2021. Unfortunately, the same amount of pins does not exist for round tables. Many couples feel they can feel outdated, stuffy, traditional, and ballroom-esque. 
But this is your wedding, and what matters most is what you want at your reception! Your decision will be based on four primary things:
Budget
Guest count
Table shape and size
Aesthetics
Budget For Wedding Reception Tables
The more tables you add, the more your expenses will climb, because every table requires additional linens and centerpieces. Let's say you are planning on 150 guests. They will fit at 15 round tables or 18 rectangular ones. Rectangular tables would mean you're paying for three additional tables, linens, and centerpieces. Do the math and check that with your budget.
Check with your venue on this one, as some venues have tables available for free. Typically these are round tables. So the availability of tables, or the lack thereof may affect your decision. If your venue offers free round tables, but you want rectangular ones, you will need to add up the rental cost for each table.
Round tables will be less expensive all around and will create a traditional mood.
Rectangular tables will be more expensive. You will need more square footage for the same number of guests when using rectangles, though it will feel more modern and trendy.
From a catering perspective, there are some cons to rectangular tables. Typically an entire table of guests at a round table is served at once. With rectangular tables, you need more servers if you want everyone at the table to be served simultaneously, due to the shape. The cost is climbing if that's the case.
Alternatively, you could do a mix of round and rectangular. This would be unique, give your guests different seating options (or you if you have a seating chart), and vary the evening visually.
Guest Count
If your guest count is close to the venue's capacity, you may need to go with round wedding reception tables, since they can fit more guests per square foot. A 72" round table fits 10 guests, whereas a standard 8' rectangular table will only seat 8 guests.
Round tables will ensure that everyone will be comfortable and have adequate personal space. If you have some wiggle room with the venue's size and your guest list, you could have a mix of rectangles and rounds, or even all rectangles. If you have a large number of guests, rectangular tables may be prohibitively expensive, as these tend to be more appropriate for smaller, more intimate weddings.
Wedding Table Shape & Size
Closely related to the above point is the size of the tables you choose. Round tables are measured by the diameter of the table, and they typically come in 36", 48", 60", or 72" sizes.
Generally speaking, a 36" table will sit 2-4 guests, a 48" will sit 4-6 guests, a 60" table will seat 8 guests, and a 72" will seat 10 guests. These numbers are based on ensuring each guest has sufficient space to eat and chat, as well as the size of the plates the meals will be served on.
Round tables are a great option for family-style inspired meals, and they are extremely versatile. From the country club, to the beach, to the farm, round tables can almost always be made to work.
A growing trend for intimate guest lists is square tables. There are a few reasons for this growing trend. With more surface area you can choose a large centerpiece (if the budget allows) and have all the proper glassware, flatware, and dishes.
And as with round tables, square tables can work at almost any wedding venue. Many rental companies do not have a large number of squares for rent, so it may take some research. When you do find them, they will probably be 3'x3′, 4'x4′, or 5'x5′.
Rectangular tables are usually 8" long. If you choose to rent them, be forewarned that some rental companies only have tables that are 30" wide. This means that there won't be much room on the tables themselves for decorations, which will affect the overall aesthetic of your wedding.
If you look hard, you may be able to find 8' tables that are 42" or 48" wide. Though more expensive, this will allow space for florals, candles, bread baskets, table numbers, favors, glassware, etc.
Consider also the type of food you are having. Family style doesn't work well with rectangular tables. After all, you don't want those nearest and dearest to you passing the oysters over your giant candelabras do you?
Reception Table Aesthetics
In terms of visual appeal, rectangular tables are elegant and sprawling. When placed end to end, the feel of the reception will be stunning: symmetry and angles, gorgeous garlands, strings of bulbs, low florals, dripping candelabras, and intimate conversations.
If you rent rectangular tables and choose to keep each one separate rather than lined up, have four people on each side as opposed to 3-4 people on each side and one on each end. Doing the latter takes away from the beautiful symmetry of long tables.
Rectangle tables are exquisite for micro weddings where only 20-30 guests will be attending. Everyone can be at the same table and it's beautiful to see the chairs, napkins, glassware, and centerpieces all perfectly lined up.
Last But Not Least
A wedding reception is undeniably going to have some level of chaos. Between drinks, hors d'oeuvres, the meal courses, dancing, cake cutting, and catching up with Aunt Karen, it's no wonder that sweetheart tables have been around for decades.
This is a table where just the bride and groom sit to enjoy their meal together and take in the evening without being smothered by eager friends and family. There will be time for meeting, greeting, and hugging, but this makes space for the happy newlyweds to escape the hustle and bustle from time to time.
While a sweetheart table gives the couple intimate moments together, a head table (or king's table) allows the bride and groom to dine with their closest family and family. Think siblings and bridal parties.
Traditionally this table is in a prominent location, and those seated at the table are on one side facing the rest of the guest tables.
The arrival of cocktail hour transitions from wedding ceremony to an all-out bash. During this time, drinks and small bites are served. It's often al fresco and you'll likely have a bartender.
For this part of the wedding reception, you should consider cocktail tables, which range in diameter from 24″ to 36″. Arrange a few high-top tables (one per 10-25 guests) throughout the space, as well as a few low-seat tables for older friends and family. If you really want to show off on Instagram, loungers make a large impact.
Again, this is your wedding, therefore you get to customize it. One way to make your venue feel tailor-made is to mix table shapes. Combining table sizes and shapes will allow you to use your creativity and transform a basic space into something truly unique.
If you're going to use multiple table shapes, it's generally recommended that you choose two. Squares and rectangles have a huge impact, and can work especially well for linens and dishes. Rather than having all one color linen, choose two. Rather than having all farmhouse dishes, throw in a modern dish here and there. This layered, textured design will put your personality and aesthetic into the decor.
Need help figuring out your wedding budget?
We know that all weddings are unique and so are wedding budgets. Let us share a customized cost estimate based on YOUR preferences in catering, decor style, season and more.
In Review Of Wedding Reception Tables
Let's walk through a simplified list of pros and cons.
Round Tables: Pros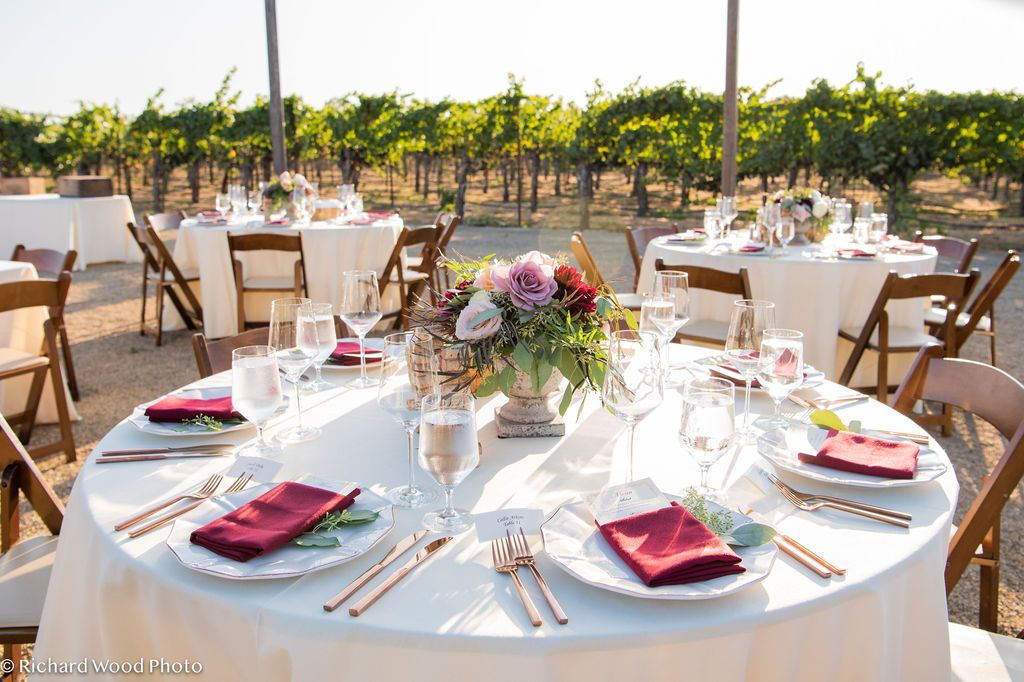 Affordability
Quicker Service
Practicality
Space
Family-Style Meals
Adaptability
Round Tables: Cons
Traditional
Unoriginal
Stuffy
Cookie Cutter
Outdated
Rectangular Tables: Pros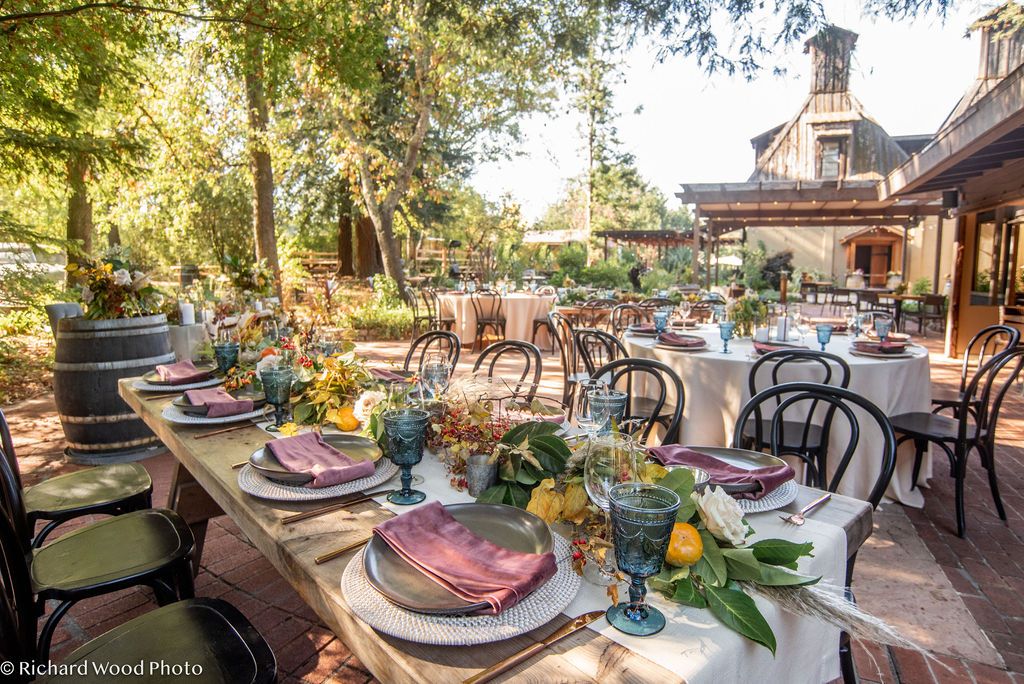 Millions of Pins on Pinterest
Trendy
Intimate
Symmetry
Unique Decor
Conversation
Rectangular Tables: Cons
Expensive
Larger Venue Needed
More Servers Needed
Square Tables: Pros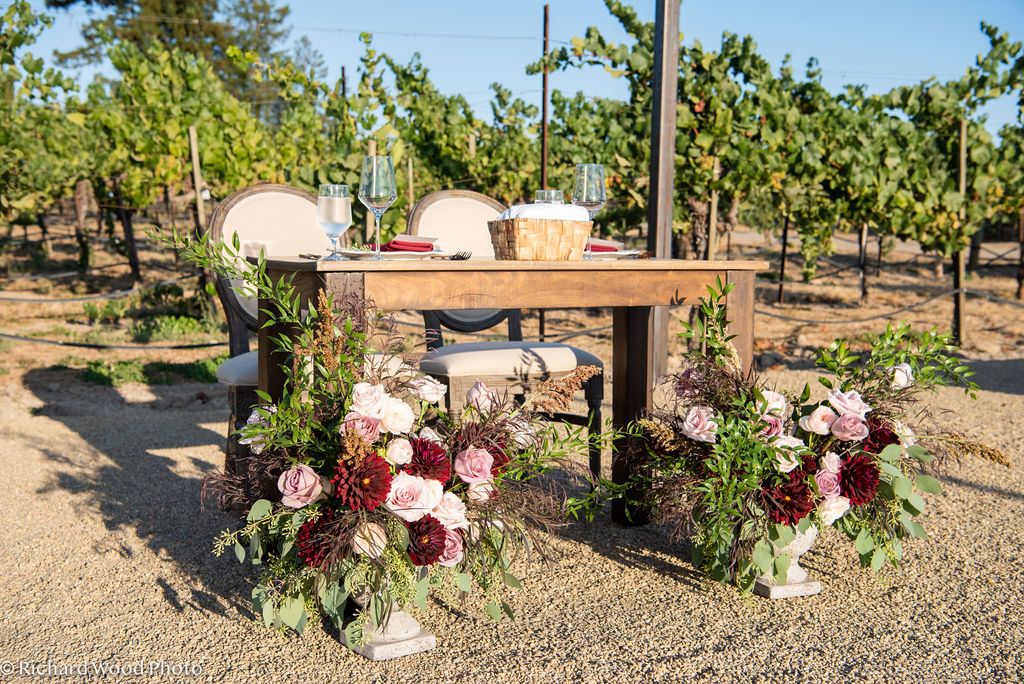 Trendy
Mixes With Other Shapes
Intimate
More Table Surface Per Guest
Adaptability
Square Tables: Cons
Which Wedding Reception Table Will You Choose?
Hopefully, you now have a better feel for what's involved in the various table sizes and are equipped to choose the ones that best suit you and your fiance. And if you're not on the same page, this information can help you talk through the decision, get on the same page, and move onto the next decision.
But remember, this decision will not make or break a wedding. All of the options allow you to highlight the journey you and your partner have been on and for your guest to celebrate all that the future holds.