Why might you need 17 fall wedding ideas on a budget?
To make your day unforgettable!
Do you look forward to fall all year long?
Is summer too hot?
Winter too cold?
Don't love sneezing all spring long?
There are tons of reasons why fall is one of the best times of the year.
And if you're thinking of getting married in the fall, we say you should absolutely go for it.
You also might be familiar with the notion that it's always super expensive to throw a wedding.
This definitely isn't the case, and if you're looking to have a small, low key wedding, fall's cozy vibes will be perfect.
How should you decorate?
What should you serve?
Don't worry, we've got you covered.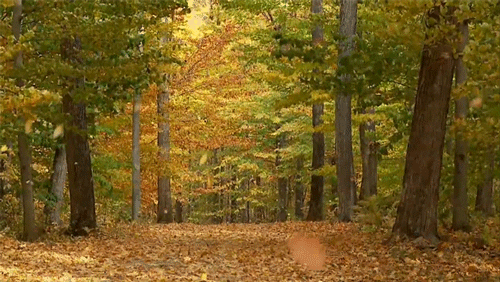 Fall Wedding Ideas On A Budget: Themes
First, let's go over some fun and creative themes for your fall wedding that won't break the bank.
You can use the beautiful fall foliage to your advantage or even rely on some favorite fall traditions.
The choice is yours!
Halloween Theme
Let's get the most obvious theme out of the way.
For the couples who have a soft spot for the darkness: this one's for you.
Indulge your inner child and give your guests something to talk about with a Halloween wedding.
Incorporate candy into your wedding menu, or even ditch the traditional wedding clothes and get married in costumes.
Heck, go crazy and get married in a graveyard!
Halloween is one of the highlights of the fall season, so why not embrace all things spooky for your big day?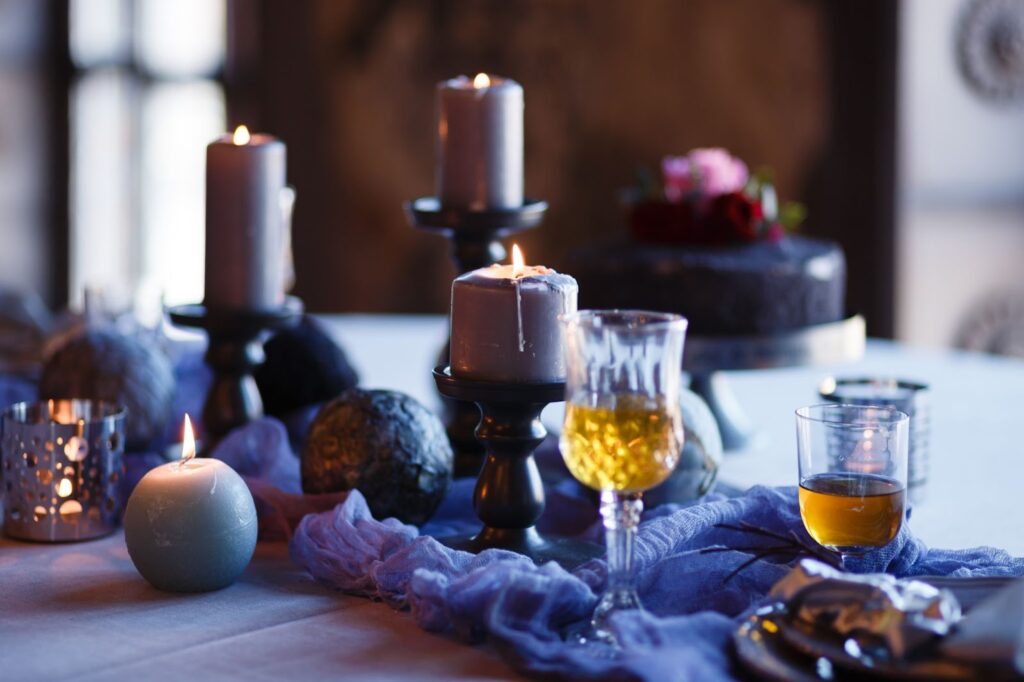 Rustic Theme
Fall weather normally means some of the best weather all year, so enjoy the great outdoors and throw a rustic themed wedding!
All you need are some mason jars, string lights, and a few wooden barrels.
WIth some motivation and DIY skills, you'll have a pretty good-looking low budget wedding. 
Harvest Theme
If you're looking for some great wedding decor, look no further than outside your window.
Make your wedding look like a Thanksgiving cornucopia with a creative harvest theme!
You're going to need some hay, corn, and lots of autumn leaves.
This will "leaf" you with a pretty gorgeous looking wedding.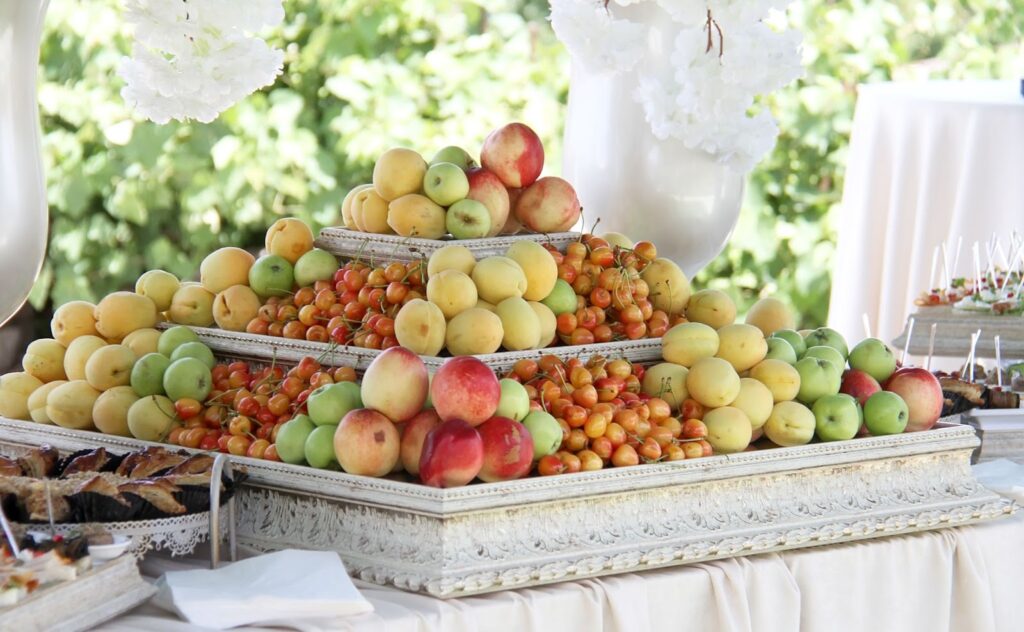 Fall Wedding Ideas On A Budget: Venues
Now, where will this fall wedding on a budget be taking place?
Luckily, there are tons of public or outdoor venues you can use for your big day where you can make the most out of the season.
Stay tuned for some of our favorite picks. 
Your Favorite Public Park
Get married in a public park and have some of the most beautiful wedding photos ever!
Public parks often have affordable booking fees, and they are usually pretty flexible with location and the amount of guests you can have.
Plus, with all the beauty of the changing leaves, Mother Nature will provide the decorations for free. 
Local Courthouse
Want a short and sweet ceremony in a breathtaking building?
Then a fall courthouse wedding is the way to go!
Courthouse weddings often make for chic, minimalistic, and budget-friendly venues in which to hold your wedding.
If you know your courthouse is brimming with history, or you just love the architecture and think it would make for some great photos, then it looks like this could be your chance.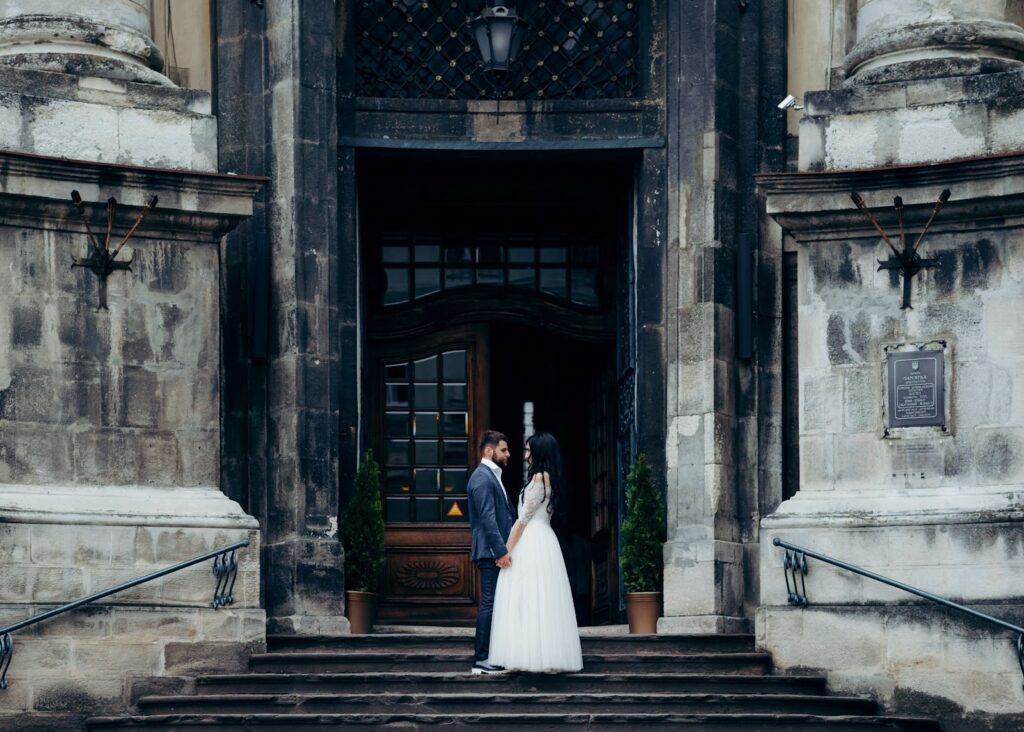 Backyard
If the fall season can be described in one word, it's "cozy", and a fall backyard wedding would definitely have a cozy feel.
You can avoid venue and rental costs entirely, and since it's your backyard (or a loved one's), you have much more free range over what you want to do with the space.
With a few hands-on volunteers, you can have a backyard looking as intricate as any professional decorator. 
Need help figuring out your wedding budget?
We know that all weddings are unique and so are wedding budgets. Let us share a customized cost estimate based on YOUR preferences in catering, decor style, season and more.
A Picturesque Library
Many folks associate the fall season with sitting inside with a cup of coffee and a great book.
And if you and your spouse consider yourselves bookworms, or if books are a big party of your story, consider getting married surrounded by books inside of a library.
This venue is both unique and affordable, and you'll have your guests feeling like they're at Hogwarts.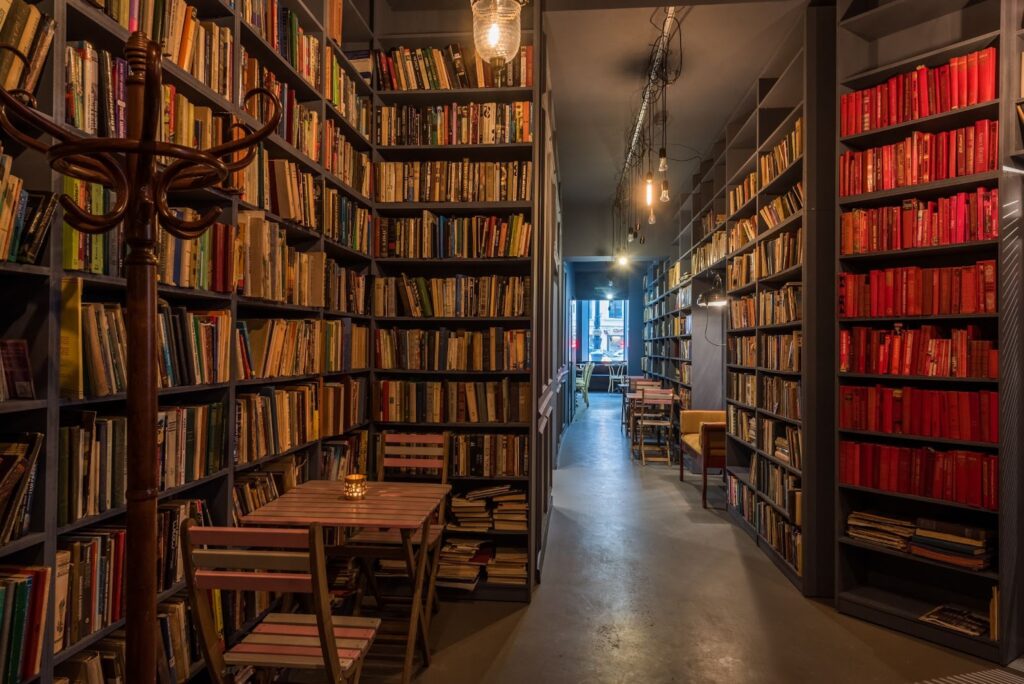 Fall Wedding Ideas On A Budget: Decorations
A big way you can save money on your wedding day is by buying or doing your wedding decorations yourself.
If you love a DIY project, then this is your lucky day!
But if you don't, you may find that you enjoy a crafty venture every once in a while.
Here are a few of our suggestions for some magical fall wedding decorations. 
Paper Flowers
Real flowers may look stunning, but those can get expensive and they don't last very long.
Instead, go for some paper flowers that are not only a creative alternative, but they'll last forever if you want them to.
You can purchase the paper flowers yourself from a crafts store, or you can bring your wedding party together and make them as a bonding activity.
With a few snacks and drinks, making your flowers can make for a great memory and a way to get your wedding party involved in the planning!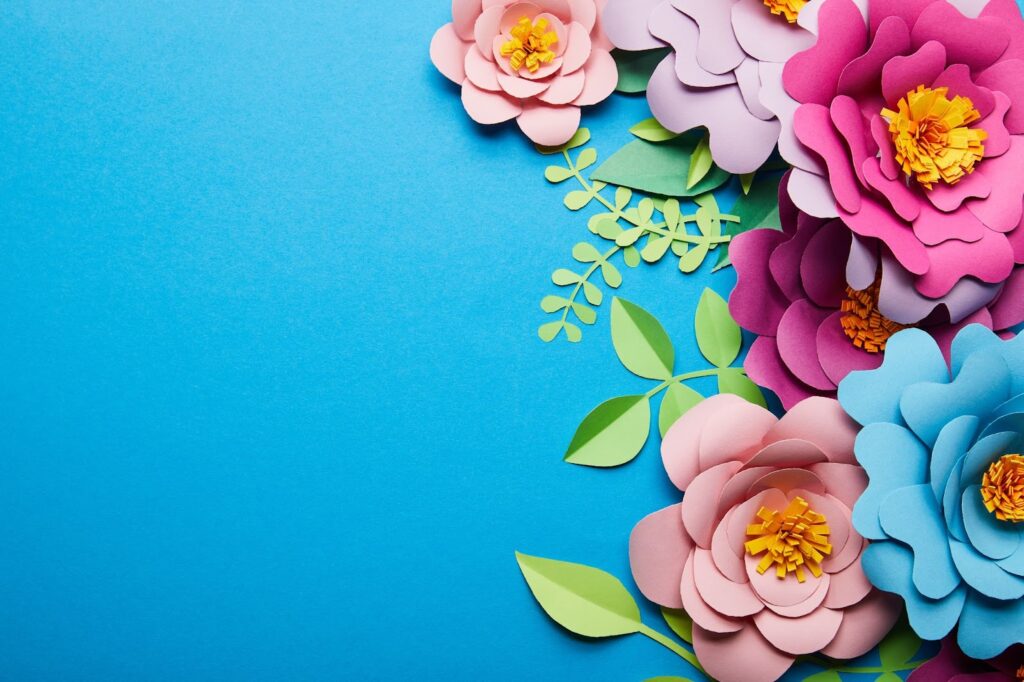 Gold Details
When it comes to the traditional fall colors, we normally think about red, orange, green, brown, and yellow.
And while you can totally incorporate those colors into your wedding, we recommend taking it up a notch and adding some gold in there.
Gold already goes great with the fall wedding colors, but it also adds a subtle yet regal feel to your big day.
Whether it's gold ribbons or silverware, it's a lovely touch. 
Pumpkins
Would it really be Fall without pumpkins?
Since pumpkins are in season, they won't be pricey.
And if you've ever been to a pumpkin patch, you'd know you can take some great photographs.
Plus, if you're still thinking about that Halloween wedding, you can carve out some pretty spooky Jack-O-Lanterns and have some extra wedding guests.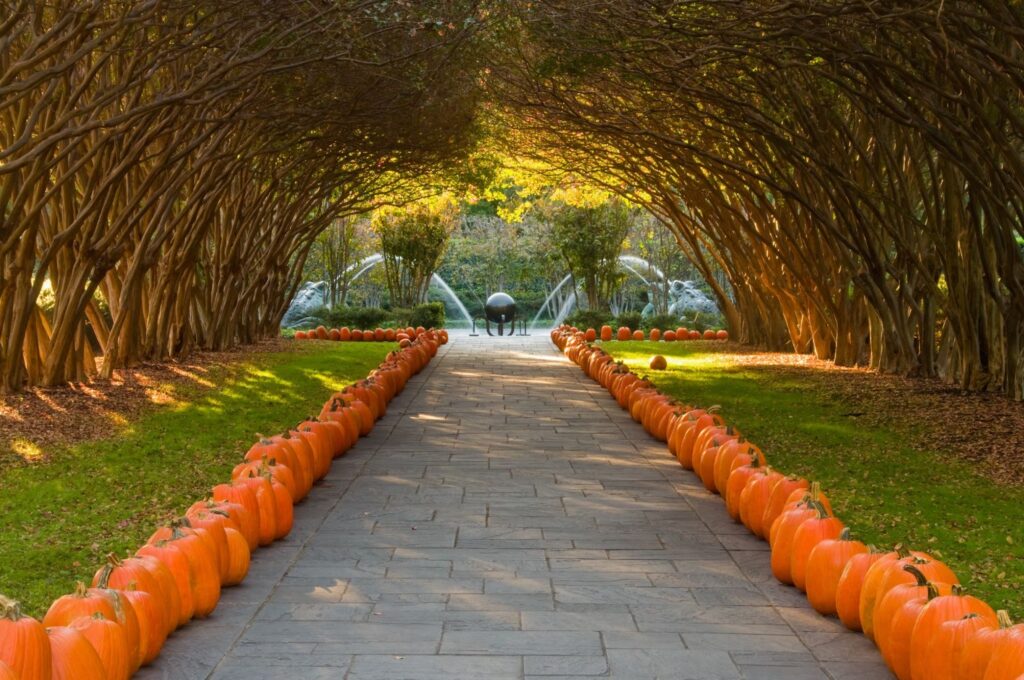 Candles
If you plan on getting married in the evening, be sure to incorporate some candles into your decor.
You can make them look cozy, creepy, or any other of the feelings we associate with the fall.
Whether it's decorating the tables or lining the aisle, candles will make any wedding look ethereal and romantic.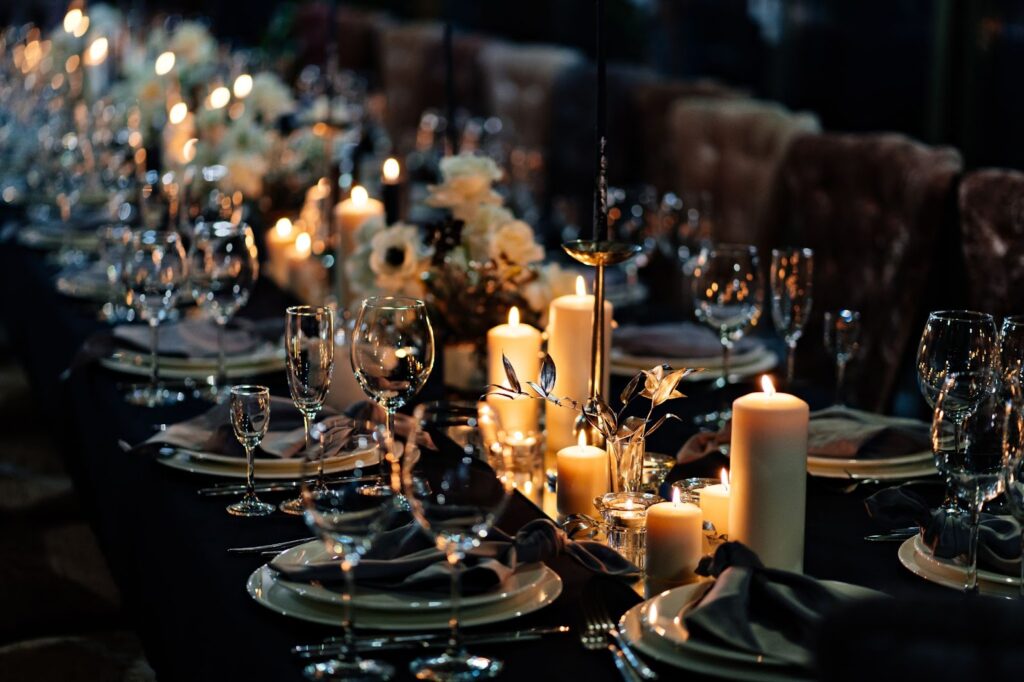 Fall Wedding Ideas On A Budget: Wedding Menu
Finally, fall has some of the best seasonal treats out there that don't need to be prepared by a Michelin-star chef.
And lucky you, you get to incorporate them into your wedding menu!
Here are a few of our favorite fall wedding menu items you can serve at your reception that are sure to please every guest.
(OK, most of these are desserts, but you can't have too many of those!)
Pumpkin Pies
Of course, we have to start with the classic fall dessert.
Ring in the start of your married life with a delicious slice of pumpkin pie!
This fall dessert staple will have everyone's mouths watering and coming back for seconds.
If anything, your guests might even expect this to be at your wedding.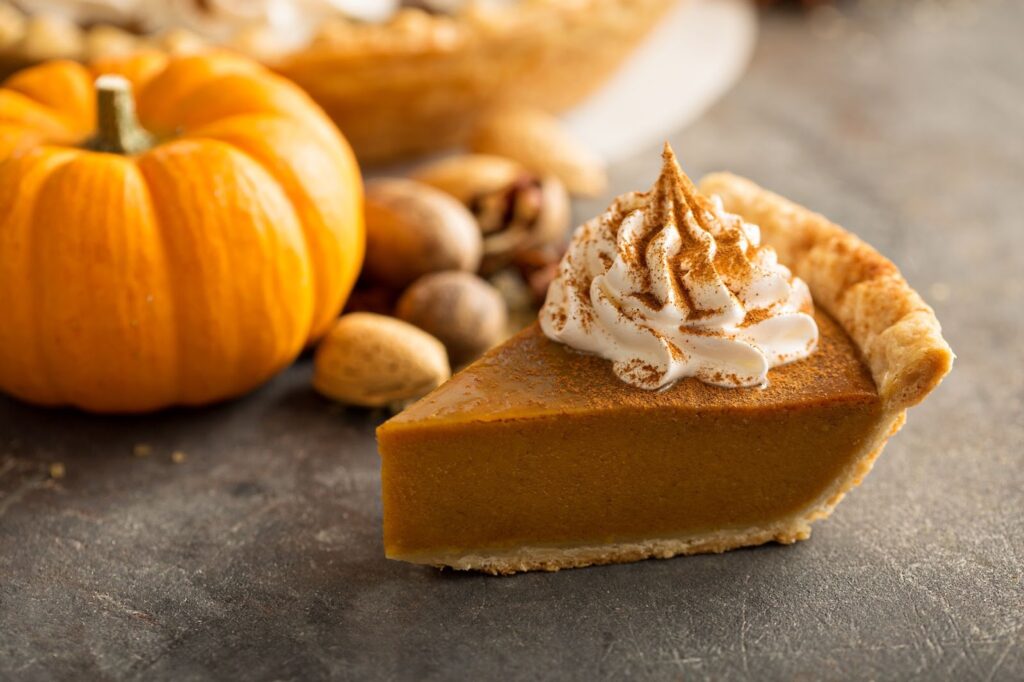 Caramel Apples
Sweet, tarte, handheld, and with a little bit of a crunch: caramel apples make for one scrumptious treat.
The displays also make for some pretty sweet food photography.
One bite of this and you'll feel like a kid again at the fall fair.
Just be warned: caramel is a little sticky.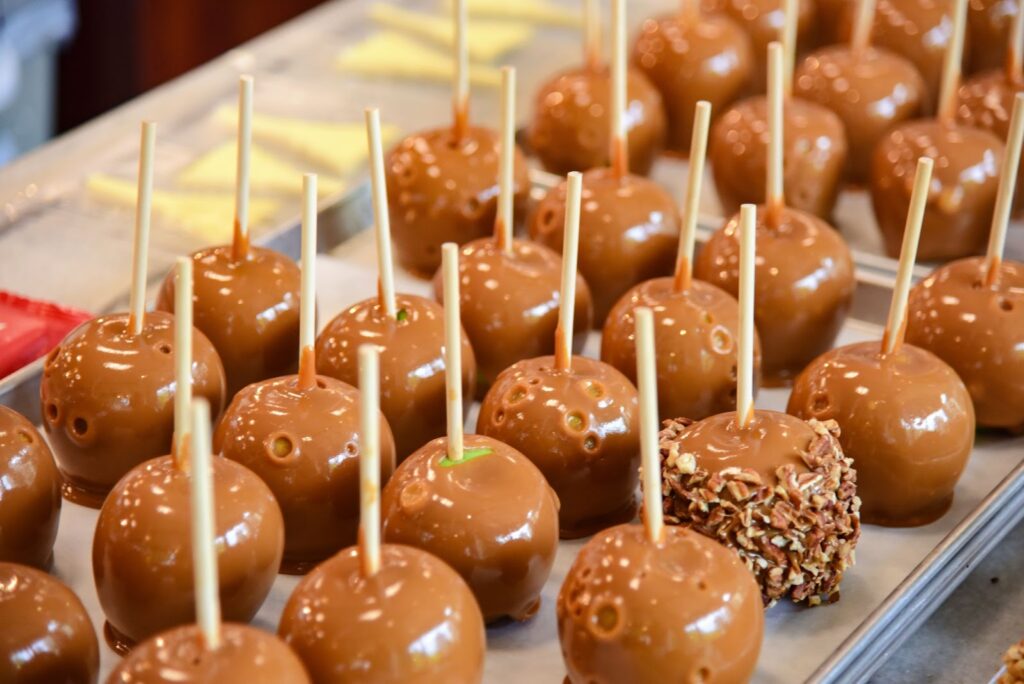 Cider
Your guests are going to need some beverages in order to wash down all this delicious fall food.
What better to accompany the caramel apples than some yummy bubbling cider?
Cider is the ultimate fall drink, and it will definitely make for a crowd pleaser.
And for your guests who are over 21, there are tons of great cider cocktail recipes you can consider serving too. 
Soup Shooters
Though it's not freezing cold like the winter, you can certainly feel a little chill in the fall.
You might want to serve a hot food, and soup is the perfect candidate.
But instead of bowls, we suggest having soup shooters, or little shots of soup your guests can carry around like drinks!
As long as your guests are warm and full, nothing could go wrong. 
S'mores
If you have access to a campfire at your venue, do take advantage and have some s'mores for dessert.
There's nothing tastier than a toasted marshmallow, and a campfire will keep everyone cozy.
You and your guests can end an already great reception by sitting together around the fire eating desserts and making memories to last the whole season.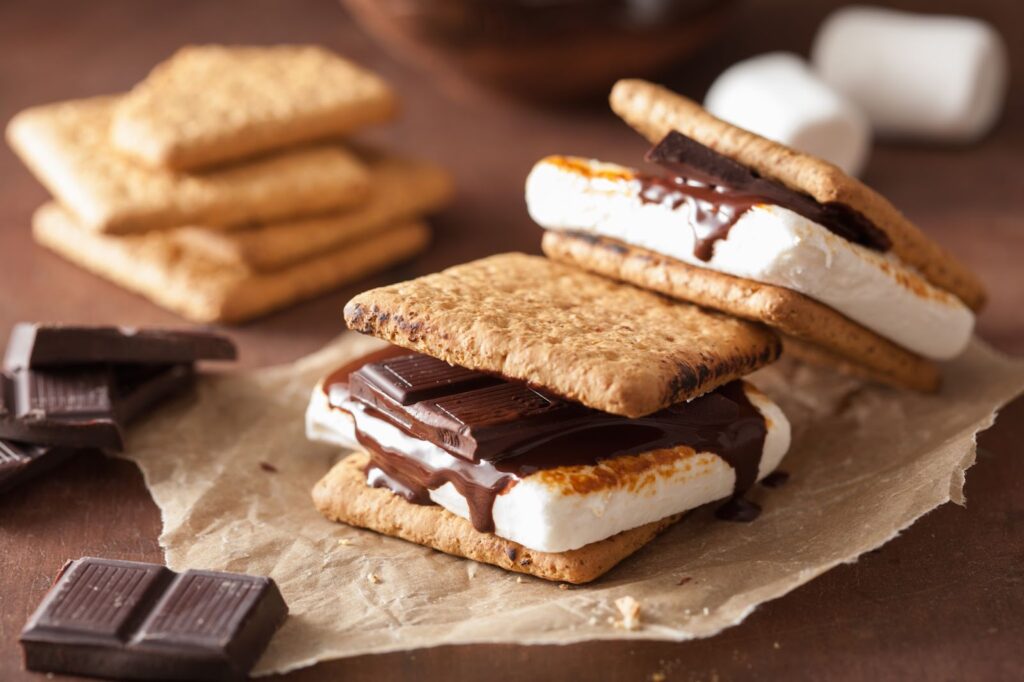 Final Thoughts 
There you have our suggestions for some incredible fall wedding ideas on a budget.
From your theme all the way down to the menu, we hope you take some inspiration for planning your special day.
And no matter your budget or the season, we here at Milestone know that great memories are priceless.
We truly hope we get to play a part in your wedding journey.