Ah, Napa Valley Wedding Venues–it's the wine capital of the United States and one of the most gorgeous places in the world. It's no surprise, then, that it's an extremely popular locale for weddings and receptions.
At only thirty miles in length and five across, you might think there's a shortage of places to choose from, but that isn't so; by one count there are 375 wineries and ninety additional tasting rooms in the Valley! How are you to choose? That's why I'm here. I've picked fifteen of the most beautiful wedding venues to make the decision easier. Let's dive in!
Charles Krug Winery
Image courtesy https://milestoneeventsgroup.com/venue/charles-krug-winery/
Leading off our list of the most beautiful Napa wedding venues, established in 1861, the Charles Krug Winery is the legacy of its namesake, who was the father of the Napa Valley winemaking industry. This was the first winery in Napa Valley, making it the most iconic and historic location offered there. Since the 1940s, the estate and wineries have been owned by the Mondavi family, who have used it to create their own wine empire, and regularly open the grounds to host weddings and other events.
Charles Krug offers both outdoor and indoor events (seating up to 1200 outdoors, 300 inside), with its massive oak trees a popular spot for the exchange of vows. An on-site commercial kitchen and tables for up to 200 guests are available, and guests regularly are awed by the gorgeous architecture and woodwork of the Carriage House, which is the location for many indoor receptions and dinners.
Triple S Ranch
Image courtesy https://milestoneeventsgroup.com/venue/triple-s-ranch/
Specializing in wedding weekends, the Triple S Ranch boasts a sprawling twenty-plus lush acres rich in both natural and man-made beauty. The estate itself can easily house sixty guests in two remodeled Victorian homes and twelve cabins, with additional hotels available a mere four miles away.
In addition, the ranch can host your entire wedding event from rehearsal dinner to after-reception brunch, with the ceremony itself held outdoors under a 175-year-old oak tree. Ceremony and reception sites can seat up to 150.
El Dorado Hotel and Kitchen
Image courtesy https://eldoradosonoma.com/gallery/
Offering spaces for both ceremonies and receptions that seat up to 250 guests depending on layout, the El Dorado Hotel and Kitchen is a popular spot for both intimate and extravagant gatherings. Weddings can be held both outdoors (in their stone courtyard or garden patio) and indoors (in the fireplace lounge).
Additionally, the hotel's 27 rooms are available for block reservations should the wedding party want to immerse itself in the full Sonoma experience.
Keystone Pavilion
Image courtesy https://keystonepavilion.co/gallery
An exclusively outdoor venue located in Sebastopol, the pavilion offers numerous attractive amenities. Moments away from Bodega Bay and less than an hour from San Francisco, you'll also find well-appointed gardens, lounge areas, an expansive bridal suite (and a cave, for the groom and groomsmen!), a beautiful fountain and gazebo that are prime photo locations, and a concrete terrace that easily doubles as a dance floor. The pavilion can host up to 150 guests and is available for multiple wedding-oriented events, including vow renewals.
Jacuzzi Family Vineyards
Image courtesy https://www.jacuzziwines.com/events/weddings
You can get the most bang for your buck at Jacuzzi Family Vineyards. Their wedding package includes use of three of their exclusive locations (two outdoor, one indoor), with an additional smaller outdoor venue available for a separate fee.
The Vineyard Vista is perfect for the ceremony, while the spacious and old-world Grand Piazza will make any reception sparkle. For dinner and dancing, you'll retire to the grandeur of the Barrel Room, rich in European charm and warm light. High season runs from April to November, with a flat rate depending on the number of guests and day of the week.
Trentadue Winery
Image courtesy https://trentadue.com/weddings/#VenueGalleries
Trentadue is perhaps one of the most breathtaking locations in all of Wine Country. With six different venues available for different numbers of guests (from a small gathering of thirty to ceremony and dining for 265), and with the staff responsible for both setup and teardown, Trentadue may be your one-stop locale for your entire wedding event.
Two lawns are available for both ceremony and dining, while the Sala de Leon Pavilion provides an expansive and lovely indoor dining option. Perhaps most intriguing is the Grape Arbor, an intimate yet spacious outdoor area draped in grapevines that seats up to 150 for dining. The South Arbor is a lattice-covered patio area perfect for dancing and comes with Edison and Mason lights already installed. While the peak season for Sonoma weddings runs from May to October, the vineyard also books in the off-season from November to April and is less expensive during these months
The Estate Yountville
Image courtesy https://www.theestateyountville.com/gallery/
The Estate at Yountville offers engaged couples a rich array of both outdoor and indoor venues, multiple options for housing guests, a full-service spa, and a dedicated onsite culinary team to cater events large and small. One of its most unique offerings is The Pavilion, a unified set of three diverse outdoor locations complete with fountains, gazebos, adjoining gardens, walkways, outdoor lounges, and brick walkways.
It can accommodate up to 300 guests for a seated dinner. Other venues include The Vineyard, perfect for intimate outdoor dining; The Social, a modern building with sliding walls that open onto a private lawn and a series of gardens; The Main House, an upscale indoor venue designed for dinners and receptions; The Grove, a set of two smaller rooms that open onto a patio; and The Barrel Room, where the rustic charm of the original winery meets modern amenities and warm lighting.
Long Meadow Ranch
Image courtesy https://www.longmeadowranch.com/weddings-functions/weddings-events/
Long Meadow Ranch has been in existence since the 1800s, though Prohibition caused it to lay dormant until the Hall family purchased it in 1989. The Ranch offers five venues for ceremonies alone which seat varying numbers of guests and offer unique elements that promise a memorable affair. Receptions, dinner, and dancing can be enjoyed in various places on the property, including the Barn, the Lawn (with a view of the vineyards and a live fire pit), and the outdoor patio.
The Ranch also is home to Farmstead, the family-run restaurant that features dishes made from ingredients that come directly from their farm, ranch, vineyards, and surrounding community.
Need help figuring out your wedding budget?
We know that all weddings are unique and so are wedding budgets. Let us share a customized cost estimate based on YOUR preferences in catering, decor style, season and more.
Vintners Resort
Image courtesy https://www.vintnersresort.com/weddings/gallery-2/
92 acres of vineyards, a romantic 78-room inn, lush gardens, and award-winning cuisine are among the many amenities you'll find at Vintners Resort. With capacity up to 300 guests, your wedding will be both grand and memorable.
The sprawling Event Center boasts multiple lovely possibilities for everything from the shower to the reception, personally guided by the resort's wedding specialist. Your guests can enjoy a stay in the resort's well-appointed inn, with each deluxe room offering full amenities (ground floor rooms include a patio; upper levels have balconies and electric fireplaces).
Mountain House Estate
Image courtesy https://mountainhouseestate.com/mendocino-wedding-venue-gallery/
Do you have a favorite food truck, vendor, or spirit that would make your wedding complete? Good news! The Mountain Home Estate is more than happy to accommodate you. Besides these endlessly customizable options, the Estate also features a luxurious private bridal suite for the lady of the day and her friends; a large redwood deck framed by two oak trees that are several hundred years old (a massively popular outdoor wedding venue); the Grand Ballroom, perfect for receptions and dancing; and a spacious outdoor patio ideal for seated dinners putting them on our list of the most beautiful Napa wedding venues.
Fairmont Sonoma Mission Inn and Spa
Image courtesy https://www.fairmont.com/sonoma/
Wedding planning can be stressful, and a perfect way for the bride and her party to feel pampered is by visiting the Willow Stream Spa on the grounds of the Fairmont Sonoma Mission Inn. Built atop hot mineral springs, the spa also will do your hair and makeup on the special day after massages and facial treatments.
Wedding guests can choose from several Michelin star restaurants during their stay, and the resort offers numerous locations for receptions of any size, while the onsite staff of wedding planners, service staff, and culinary team will work together to create a perfect event from rehearsal dinner to reception.
The Lodge at Sonoma Renaissance Resort and Spa
Image courtesy https://www.marriott.com/hotels/event-planning/wedding-planning/sfols-the-lodge-at-sonoma-renaissance-resort-and-spa/
The Lodge's backdrop is the Sonoma Mountains, and rustic-meets-modern-amenities is a theme that carries throughout the grounds and buildings. With seating for up to 500 guests in their largest event space and over 22,000 square feet available to use, the Lodge also offers you the expertise and guidance of their certified wedding planners to do the worrying and organizing for your big day.
Provide the Lodge with a list of your guests and they will make automatic reservations for all of them in their stunning rooms with one king or two double beds. Outdoor weddings will be simply breathtaking against the mountains surrounded by family and friends.
Meritage Resort and Spa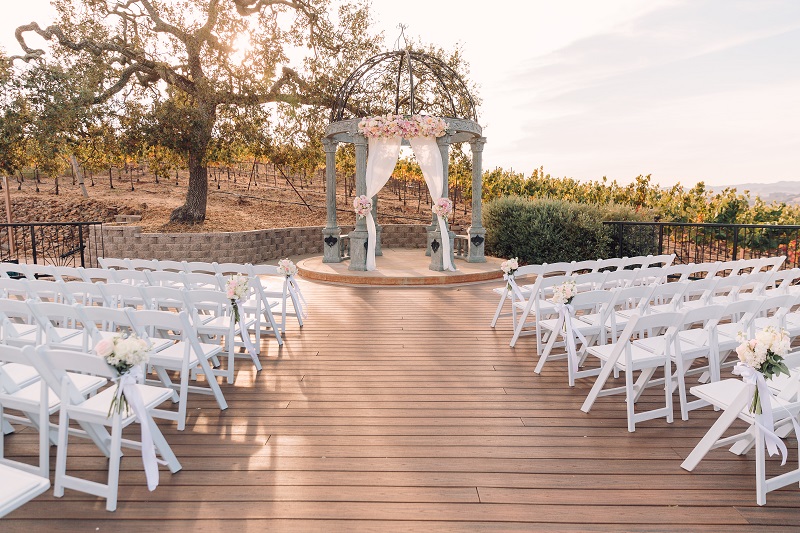 Image courtesy https://www.meritagecollection.com/meritage-resort/weddings/napa-wedding-venues
The Meritage offers couples multiple indoor and outdoor venues for their special day. One of the most interesting is the Estate Cave, which can be used for both the ceremony and the reception. A popular outdoor option is the Vineyard Deck, with a columned gazebo overlooking the vines and ceremony seating for up to 200 guests. Multiple ballrooms, each with different decor, can be used for the reception, or a Tuscan-inspired terrace can be the place where you and your guests enjoy dinner and dancing. Your guests will love staying in any of the gorgeous rooms or suites, many of which have full or partial views of the vineyards.
Hans Fahden Vineyards
Image courtesy https://www.hansfahdenwedding.com/gallery?pgid=kfipcrz4-be928fc9-1245-4399-81d0-4ecdb6a84e40
Hans Fahden Vineyards offers an all-inclusive planning package that will take care of all of your wedding needs, thanks to its cadre of hand-selected local wedding vendors, all of whom have proven track records of exquisite taste and trustworthy service. The bride can meet her groom after her idyllic trek down the vine-covered walkway and enjoy an outdoor wedding overlooking the pond.
The couple and their guests will enjoy the numerous natural wonders of gardens, ponds, and walkways, perfect for photos. The reception can be held in a lit wine cave for a rustic outdoor ambiance, or in the cozy Great Room, where there is also space for dancing and celebration.
The Villa Chanticleer
Image courtesy https://www.villachanticleer.com/galleries/gallery/gallery-2/
One of the most charming and serene wedding locations in all of the Valley, the Villa Chanticleer hearkens the mind and soul back to a simpler era. The lush and manicured gardens are a popular spot for an outdoor wedding, while the cozy indoor banquet halls are perfect for a reception making them one beautiful Napa wedding venues.
The lovely grounds and natural light provide ample opportunities for memorable and beautiful photography. The whole event, ceremony-only, and reception-only packages are provided to precisely meet your desires, and all packages include a two-hour rehearsal, an on-site property manager for the entire event, a two-hour ceremony rehearsal, and a built-in PA system.
Napa Wedding Venues Conclusion
Your wedding is one of the most important days of your life. Make choosing the location easier by perusing these breathtaking options all in the heart of California wine country. Each one promises breathtaking scenery, years of experience, and wonderful memories, all surrounded by the magic and unique spirit that is the unparalleled Northern California Wine Country. We hope you enjoyed our list of the best Napa wedding venues.